How to Alleviate Nausea and Headache in Hypertensive Nephropathy
2017-09-26 16:11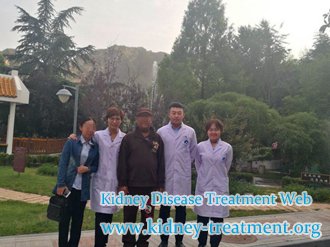 On the average, many symptoms and complications will come out in the hypertensive patients if they can not dominate the blood pressure well. While, how to alleviate nausea and headache in hypertensive nephropathy?
Why the hypertensive nephropathy patients have nausea and headache?
For hypertensive patients, nausea and headache usually appears as the high blood pressure in the head, which will lead to serious cardiovascular and cerebrovascular diseases or even have risk for death. Besides, the patients with hypertensive nephropathy will have a various toxins and wastes assembled in the body, which will also induce high blood pressure, nausea and headache. So that, it is very essential for the patients to cure nausea and headache from root causes.
How to deal with nausea and headache for hypertensive patients fundamentally?
1. Medicines to control nausea and headache. Such as Antiemetic and Painkiller. However, these treatments can only alleviate the symptoms in some case, but not solve the problems from root cause.
2. Take drugs to manage the blood pressure well. For examples: Trichlormethiazide. Sympatholytic Drugs, Renin-angiotensin system inhibitor, Calcium Antagonist, Vasodilator, some Chinese Medicines, etc.
3. Treatments to improve the kidney function. Natural treatments like Toxin-Removing Therapy, Micro-Chinese Medicine Osmotherapy, Full Bath Therapy and Immunotherapy can take a good role in treating the kidney problem effectively and safely.
When the blood pressure is lowered and the kidney function is recovered, the nausea and headache can be disappeared, and other complications will be avoided. As a matter of fact, which treatments is suitable for the patients depends on the patients' illness conditions, so that, please consult a doctor.
Least the patients have trouble with cure the nausea and headache, I would add that the patients are also need to manage the diets and living habits well.
If you want to gain more information about treatments to vomiting and headache for the patients with hypertensive nephropathy, please leave a message below or send your medical reports to us. We will reply you as soon as possible to help you.
E-mail: kidney-treatment@hotmail.com
Any questions? Fill the form below. You will surely get the free medical advice from experts within 24 hours.