Creatinine 8 After 3 Days of Dialysis How to Reduce High Blood Pressure
2017-12-15 11:13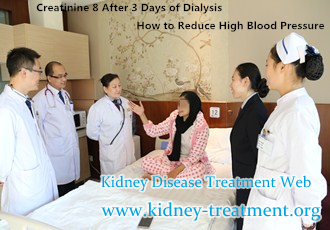 Patient: My sister had kidney infection when she was 10 she suffers from high blood pressure. Her creatinine level remains 8 after 3 days of dialysis.
Doctor: I want to know for your sister doing dialysis regularly or not?How long for dialysis? And does she have any other complications? And any discomforts? I am as a doctor,hope can give you some suggestions about your sister's illness. And I know you are worried about her condition, but please don't worried, I will do my best to help her.And I also want to know, does she do any treatments for the disease?
Patients: Yes, she takes medicine to control blood pressure? Two in morning and two at night. Her blood pressure remains between 140 and 190. Yes she does dialysis twice a week from 4 months no she does not have any complications uptill now.
Doctor: Her blood pressure is high, you know if can not control it well, it influence renal function and progressive. For kidney disease can influence high blood pressure (complications), and also high blood pressure can affect your kidney function. Your sister only did dialysis 4 months, right? Why your local doctor told her did dialysis? Only high creatinine level, or another reason? Or any discomforts? For her blood pressure, can you tell me what kind of medicine she taking now? For her condition, did you do any treatment?
Patient: Her Both kidneys have failed that's why doctor said to do dialysis. Her blood group is A+. Only my mother has same blood group but she is suffering from diabetes so doctor said my mother wont be able to donate her kidney. And she would have to wait to receive kidney from cadaver. We have already registered her name in cadaver list.
Doctor: Transplant can not guarantee that there are no new kidney problems, your sister dialysis time is not long, there is no complication of this situation. If your sister take positive and effective method of treatment such as Toxin-Removing Therapy, Immunotherapy, Oral Chinese Medicine, Micro-Chinese Medicine Osmotherapy , Acupuncture, Moxibustion, etc, no need dialysis and a kidney transplant.
Patient: OK, I will discuss it with my family member. Thank you very much.
Any questions? Fill the form below. You will surely get the free medical advice from experts within 24 hours.