Can IgA Nephropathy Patients Eat Oranges
2013-12-17 16:49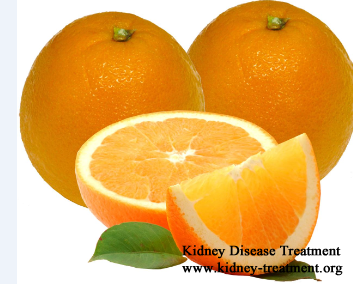 As we all know, IgA Nephropathy patients usually have a strict diet requirement. And orange is a kind of delicious fruit and be loved by many people, so once people get IgA Nephropathy, they are eager to know wether they can still eat oranges. To find the answer, please continue to read.
Actually, whether someone can eat a certain fruit is mainly decided by the nutrition which is contained in the fruit. Healthy kidneys can excrete excessive potassium from the body effectively and timely and keep the potassium level in a normal range. However, for patients with IgA Nephropathy, their kidneys are unable to work properly. Thus, a lot of potassium will accumulate in the body which may cause heart failure or arrhythmia.
Can IgA Nephropathy patients eat oranges? The amount of potassium in one orange is 237mg, so if IgA Nephropathy patients with high potassium level are not allowed to eat oranges. For this, they should also keep far away from other rich potassium foods or fruits like bananas, salmon, potatoes and so on.
While if IgA Nephropathy patients are with normal potassium level, they are allowed to eat some oranges with correct amount. Too much or too little can both not reach the effective medical result, so patients must follow their nephrologist's advice. Orange is abundant in vitamin C and citric acid. The former has the function of cosmetology and the latter is able to eliminate tiredness. What's more, the inner thin skin of orange contains dietary fiber and pectin which can promote purge and also can decrease the level of cholesterol. Decreased level of cholesterol is helpful for atherosclerosis. If you want to know your specific suggestion, please contact us by emailing to kidney-treatment@hotmail.com or click our online doctor for help, we are willing to help you.

Though a strict diet can delay the progression of IgA Nephropathy to some extent, a radical and effective treatment is the best choice for you to get rid of this terrible disease as soon as possible. Apart from dialysis and kidney transplant, here are still many choices. We hope you get the effective treatment to cure your kidney disease and get well soon.
Any questions? Fill the form below. You will surely get the free medical advice from experts within 24 hours.