Symptoms of High Blood Urea Nitrogen in Kidney Failure
2015-03-23 17:00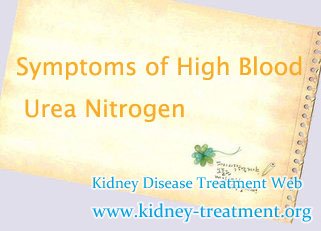 High Blood Urea Nitrogen is an abnormal medical indicator that can induce many symptoms. In clinic, high urea nitrogen level in blood may be a spell of kidney failure which can not be cured and generally needs patients to start dialysis or kidney transplant. In this light, it is very beneficial for us to learn about the symptoms of high blood urea nitrogen.
Urea nitrogen is one of the wastes produced of our body. For people with kidney failure, high blood urea nitrogen means kidney function has been affected seriously and they can not help to discharge wastes timely any more. Under such a condition, toxins produced by patient's body will build up in blood and threaten other organs.
In kidney failure, blood urea nitrogen level increases quickly when Glomerular Filtration Rate (GFR) decreases to only a half of the normal range. Therefore, elevated blood urea nitrogen means serious illness condition. In such a case, patients may experience various symptoms:
1. High blood pressure
2. Fluid retention
3. Fatigue/tiredness
4. Bubbly urine, blood urine, decreased urine output and even anuria
5. Gastrointestinal tract symptoms like poor appetite, nausea, vomiting and bad taste in mouth.
6. Skin problems like itching skin and dry skin
7. Sleep problem like insomnia
8. Nerve problems like poor concentration, poor memory, insanity and even coma
9. Respiratory system symptoms like shortness of breath, deep and long breath.
10. Bone problems like bone pain and bone fracture.
Not all the kidney failure patients with high blood urea nitrogen will certainly suffer from all the above symptoms. With different illness condition, patients may experience different symptoms. If you still have other questions or need any help in treating kidney failure, you can leave message to us, we will try our best to help you.
Any questions? Fill the form below. You will surely get the free medical advice from experts within 24 hours.