Pain In Leg and Numbness from Kidney Failure
2013-10-07 15:56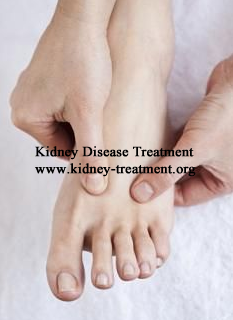 Recently, a kidney failure patient complains he is suffering pain in leg and numbness. He wonders how these discomforts are linked with his kidney problem and how to relieve them effectively.
Causes and management of pain in leg due to kidney failure
Leg pain is a symptom of kidney failure and it is especially common among patients whose calcium level in blood is lower than the normal range (2.25-2.75mmol/L), as low serum calcium is the major reason for kidney failure patients to experience leg pain or bone pain. Kidney is responsible for maintaining electrolyte balance. When kidney function is affected severely, electrolyte disturbance occurs. And leg pain or bone pain are caused when calcium level in blood becomes lower than the normal range. With leg pain caused by low serum calcium, dietary calcium supplement is necessary.
Another cause for kidney failure patients to suffer from leg pain is muscle cramp which occurs easily in legs. In that case, the following measures will be helpful to relieve leg pain:
1. Have a hot shower before going to bed at night
2. Avoid wearing tight trousers and shoes
3. Massage or stretch leg muscles when leg pain occurs
4. Have regular and mild leg activities
Causes and management of numbness from kidney failure
In cases of kidney failure, there are mainly two causes for them to experience numbness:
1. High blood sugar and high blood pressure
Kidney failure is a final consequence of kidney damages. It can be caused by many illnesses like Diabetes and Hypertension. For an individual who develop kidney failure due to Diabetes or Hypertension, he runs a high risk for numbness as persistent high blood sugar or high blood pressure can cause blockage of blood or shortage of blood supply in limbs, which can cause numbness feeling.
2. Nerve damage
Nerve damage is another possible cause for kidney failure patients to have numbness. Kidneys are responsible for discharging toxins in blood. When kidney function is impaired, tons of toxins build up in blood, which may cause damage on nerves. Numbness occurs when nerve system is damage.
For kidney failure patients with numbness, finding out the root cause is very important. Only when they take measures according to the root cause, can problem be solved effectively.
Any questions? Fill the form below. You will surely get the free medical advice from experts within 24 hours.