Prednisone Treatment for Kidney Disease
2013-10-08 14:52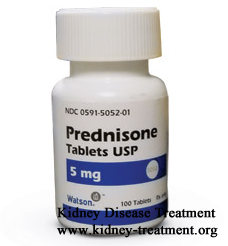 Prednisone (Deltasone) is a common drug for patients with kidney disease, especially Nephrotic Syndrome which is a kidney disorder marked by excess protein in urine. Though it is commonly used in treating kidney disease, many patients with kidney problem do not know how prednisone works on earth.
Prednisone is a synthetic corticosteroid drug that is particularly effective as an immunosuppressant drug. In medicine, it is applied to treat kidney disease owing to its function of anti-inflammation and antiallergy. Furthermore, it also shows effects in decreasing the permeability of cytomembrane and capillary wall. In many cases of kidney disease, kidney tissues are damaged by inflammation which occurs easily when immune system malfunctions. Kidneys are responsible for filtering blood and preserving nutrition in the body. When kidneys are injured due to inflammation, protein will leak into urine. Prednisone can help to block inflammation in kidney and reduce protein in urine. Therefore, it is helpful for kidney disease patients to bring their illness under control.
Prednisone is helpful in treating kidney disease, but long-term taking of this medication will cause a series of side effects or discomforts like nausea, vomiting, loss of appetite, heartburn, trouble sleeping, increased sweating, dizziness, anxiety, agitation, aggression, blurred vision, headache, irritability, mood changes, nervousness and acne and so on. Therefore, prednisone is not a long-term solution for people with kidney disease.
In many cases of kidney disease, inflammation occurs when immune complexes deposit in kidney. Immune complex is the combination of antigen and antibody and formed easily when immune system is weak or immunity is poor. Therefore, only when immune system is normalized or strengthen, can the formation of immune complex be prevented. Also, can inflammation in kidney be avoided effectively. Prednisone is helpful for blocking inflammation, but unfortunately, it can not strengthen immune system and remove immune complexes in kidney. Therefore, kidney disease can not be treated from root with this drug. In medicine, kidney disease patients can try Micro-Chinese Medicine Osmotherapy which has been proven to be able to restore kidney function. It is a herbal treatment and causes no side effects. If you want to learn more about this treatment, please leave message to kidney-treatment@hotmail.com directly.
Any questions? Fill the form below. You will surely get the free medical advice from experts within 24 hours.