Is Lisinopril Used to Treat Chronic Kidney Disease Stage 3
2014-06-25 02:58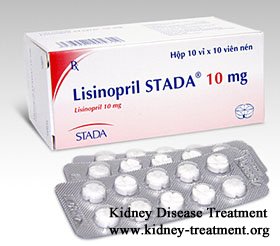 Lisinopril is in a group of medications known as angiotensin-converting enzyme (ACE) inhibitors. It works by reducing certain chemicals that tighten the blood vessels, so blood flows more smoothly and the heart can pump blood more efficiently. While, is this medicine used to treat Chronic Kidney Disease Stage 3?
Lisinopril can be used alone or in combination with other medicines to treat high blood pressure. However, not all patients with Chronic Kidney Disease Stage 3 can take this medicine. Those who are in the following cases should avoid taking this drug:
1. Pregnant women should not use this medication, as it could harm the unborn baby. It is necessary to stop using it and tell the doctor right away if one become pregnant.
2. Individuals who have hereditary angioedema should not use this medicine.
3. Diabetics should not use this medication together with any medicine that contains aliskiren (Tekturna, Tekamlo, Amturnide, Valturna).
What adverse effects can lisinopril cause?
The medicine may cause side effects. Tell the doctor if any of these symptoms are severe or do not go away:
Cough, dizziness, headache, excessive tiredness, weakness, nausea, diarrhea, runny rose, decrease in sexual ability, rash, etc.
Some adverse effect can be serious. If you experience any of them, call the doctor instantly:
Swelling (of the face, lips, eyes, hands, feet, ankles, legs), difficulty breathing, fainting, lightheadedness, signs of infection, yellow skin or eyes, and chest pain.
Hope the above introduction can be helpful for your better understanding. Still have anything unclear about managing your Chronic Kidney Disease Stage 3? Leave your doubt in the following message board. We will reply you soon with helpful explanation. Take care please!
Any questions? Fill the form below. You will surely get the free medical advice from experts within 24 hours.