What are the Side Effects of Iron Supplement for Low Hemoglobin in CKD
2014-02-16 07:35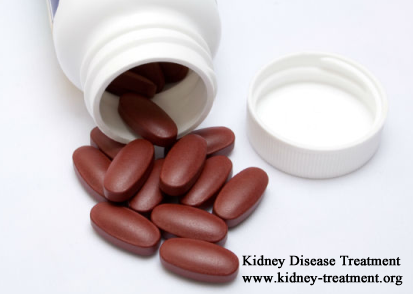 What are the side effects of iron supplement for low hemoglobin in CKD? As we know, low hemoglobin is a common complication of CKD due to the kidney damage, and patients are often recommended to take iron supplement to increase their hemoglobin. However, too much iron supplement will cause some side effects for CKD patients.
1. Gastrointestinal disorders
Excess consumption of iron supplements will cause various stomach problems such as nausea, vomiting, constipation, irregular bowel habits, abdominal pain and diarrhea. All these will make people sicker, if patients have these symptoms, they need to tell their doctors and have certain treatment to improve their condition.
2. Discoloration
Sometimes, too much iron supplements intake will cause the side effects of discoloration of teeth and bluish color appearing on lips and palms of hands and fingernails.
3. Skin problems
Iron supplements intake can also cause some skin problems, such as itching, rashes, hives, pale and clammy skin and swelling of mouth and throat, which can be caused by the generation of excess heat by the body.
4. Iron poisoning
Iron poisoning is mainly occurred in kids, which is mainly caused by excess intake of iron pills. Here are some common symptoms caused by iron poisoning, such as vomiting, diarrhea, abdominal pain and blood in stool.
Besides, there are also some other side effecting of iron supplement, which include fever, headache, muscle and joint pain, development of blood clots and hair loss, irregular heartbeat, weakness and overall drowsiness. All these side effects will make CKD patients more and more serious.
Therefore, if patients have these side effects, they need to tell their doctors immediately. For CKD patients who have low hemoglobin, if they have got some side effects when they ake iron supplements, they can have some other substitute treatment to improve their low hemoglobin. If you want to get more treatments on increase hemoglobin, you can contact with our experts online.
Any questions? Fill the form below. You will surely get the free medical advice from experts within 24 hours.