What Are The Symptoms Of Nephrotic Syndrome
2013-09-13 15:42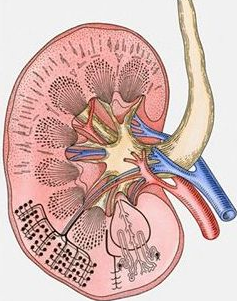 Nephrotic Syndrome can be caused by many kinds of diseases. In this disease, the pathological changes are mainly glomerular disorders, and this reason causes Nephrotic Syndrome having its own features in its symptom. That is abundant proteinuria, hypoalbuminemia, obvious edema and severe hyperlipemia.
Proteinuria
Abundant proteinuria is the mark of Nephrotic Syndrome, and the protein in urine is mainly albumin. This symptom is related to the glomerular filtration rate, the density of serum protein and protein intake. When the amount of protein leaked is more than the amount that is absorbed by kidney tubules, proteinuria will occur. The lower the serum protein's density is, the more proteinuria there are.
Hypoalbuminemia
Hypoalbumininemia is the second necessary feature of patients with Nephrotic Syndrome. As we know, liver has the function of compounding protein. While patients with Nephrotic Syndrome will has abundant proteinuria, and this causes abundant protein loss. When the loss is more than its production, there will be Hypoalhuminemia. In fact, the amount of protein that is produced by the liver of patients with Nephrotic Syndrome is more than the amount of common people. Because there are too much proteinuria, hypoalbuminemia appears.
Edema
Patients with Nephrotic Syndrome is easy to have edema. At the beginning, edema will turn up in the patients' ankles, eyelids and face. As the disease progresses, there will be symptoms like pleural effusion, ascites, hydropericardium, and so on. Some severe patients may be not able to open their eyes. A major reason for edema is patients' hypoalbuminemia. The amount of serum protein has a direct effect on edema.
Hyperlipemia
The formation of hyperlipemia is related to hypoalbuminemia. The whole amount of cholesterol will increase in patients with this disease, and patients may have lipid urine. Besides, hyperlipemia can promote the formation of thrombus and progressive glomerular sclerosis.
These above are the typical symptoms that patients with Nephrotic Syndrome will have. Of course, there are many other symptoms to different patients. Thereby, if you have any thing want to know, you can contact us, and we are willing to help you.
Any kidney problems? Please consult our online doctor. The satisfaction of patient is as high as 93%.
Have a question regarding kidney disease? Get an answer from Medical Professional now!