If I Have Nephrotic Syndrome What Causes My Edema
2013-11-20 15:03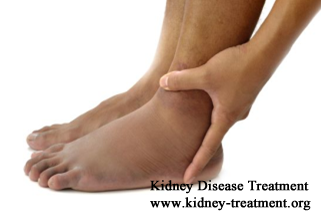 If I have Nephrotic Syndrome what causes my edema? Edema, or swelling, is one typical symptom of Nephrotic Syndrome. In some cases, it appears in legs, hands, feet, ankles and lips. In some other cases, it occurs in patients' ribs, hip, or abdomen. No matter which regions swelling affects, effective treatment should be taken.
Treatment should depend on the root causes
Normally, glomeruli can filter out extra fluid and keep protein in the blood, because of molecular barrier and charge barrier of glomerular basement membrane. Therefore, kidneys can maintain fluid and electrolyte balance effectively.
Nephrotic Syndrome is one condition that the permeability of glomerular basement membrane increases. In this condition, kidneys fail to work properly. A lot of protein leaks from the blood into urine, and extra fluid accumulates in tissue spaces. These two causes can eventually lead to edema.
How to treat edema for Nephrotic Syndrome patients?
In clinic, there are two medical systems: western medicine and TCM (traditional Chinese medicine). To treat renal edema, different medical systems have different methods.
Western medicine: It aims at preventing protein leakage and eliminating more fluid from the body. If patients both have proteinuria and edema, ACEI and steroids may be used. If patients only have edema, diuretics may be prescribed.
Traditional Chinese medicine: Compared with western medicine, traditional Chinese medicine needs relatively longer time to work. The biggest advantage of TCM is to manage edema from the root cause. With effects of anti-inflammation, anti-coagulation, degrading extracellular matrix and expanding blood vessels, these herbal medicines can repair damaged glomeruli and recover their molecular barrier and charge barrier. Therefore, they can treat Nephrotic Syndrome radically, let alone Nephrotic Syndrome symptoms.
If you or your children is tormented by Nephrotic Syndrome, you can leave a message to kidney experts at kidney treatment clinic. Our experts can help you determine which type of medicine is suitable for you or your kids.
Any questions? Fill the form below. You will surely get the free medical advice from experts within 24 hours.