Father's Day Wishes from an India Girl: Go Travel with Father
2015-06-16 17:16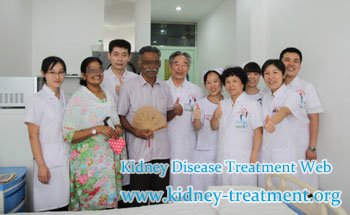 "My father's disease goes well day by day and that is great news for my whole family. He really got a tough life in the past."Briya said, her father's Day wish is to bring her father to China's capital for a tour, let him experience a real trip.
Briya a 27 years old Indian girl, her father Chandra (59 years old, was a station coordinator of their hometown) came to China for treating his kidney disease.
In the ward of Shijiazhuang Hetaiheng Hospital, Briya hold her father's arm and said "my father he has been busy for us and never want us to give him back. Now I've grown up and want to go travel with him but I didn't except that the first trip is for treating his disease. "
According to Briya's stated, on 2014 her father noticed this disease for the first time and he tried everything he can to prevent this disease went worse but failed. Her family members are worried about it and recommended her father to ask for a leave to treat his disease. But her father rejected, he said that will affect his work.
"On 2015, his disease went worse and he had to leave his work."Briya said, "I've attended a conference on "the traditional Chinese medicine", with respect of TCM, I came here with my father for further treatment."
When it comes to her father, Briya describe him with two words, they are "Dedicated" and "treat her like treasure".
Her father loves her deeply and she gives it back to her father. During the treatment, she never complained and takes care of him like a kid.
"For the upcoming Father's Day, I want to cook a big meal for my father and pray him has a healthy and happy life."
Any questions? Fill the form below. You will surely get the free medical advice from experts within 24 hours.