Four One Traditional Chinese Medicine Can Control Diabetic Nephropathy and Uremia Effectively
2015-11-18 16:46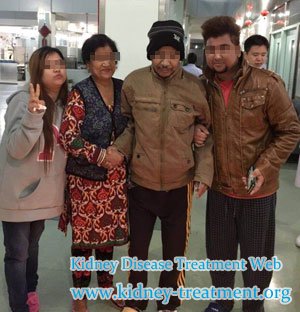 CHANDRA is a 59 years old male from India, he suffered from diabetic nephropatny, uremia and many other symptoms at the same time. In order to seek further treatment, he came to our hospital on October,24,2015. The Following are some detailed information about him, let us have a look together.
Patient Name: CHANDRA
Age: 59
Gender: Male
Nationality: India
Disease condition before treatment:
He cannot stand on his own feet, so need to seek help from wheelchair
Bad eyesight, cannot see things clear
Bad smell in mouth, just as ammoniacal odour
Always feel weakness
There are signs of urinary incontinence
According to his own condition, our doctor made a treatment plan for him, which is consisted by Four One Chinese Traditional Medicine, with the help of those treatments his disease goes well gradually, all the symptoms got relieved greatly, especially the serum creatinine level, it decreased from 921umol/L to 672umol/L
Treatments:
The four one Traditional Chinese Medicines are Hot Compress Therapy, Oral Chinese Medicine Therapy, Foot Bath Therapy and Maikang Composition, each of them has their own features in treating kidney disease. Cooperated with each other, they can delay or reverse the progression of kidney disease by improving the kidney function.
For patients with diabetic nephropathy and uremia they can get a chance to avoid dialysis and renal transplant.
After treatment:
All those symptoms and complication got relieved greatly, he can walk by his own feet just like a normal person.
The bad smell in his month disappeared
Weak feeling disappeared, his energy come back again
His eyesight turns to good, he can see things clear without glasses
The signs of urinary incontinence disappeared, he can control urination again.
If you want to know more details about how we treat him or want to control diabetic nephropathy and uremia you can send email to us or consult our doctor on WhatsApp/Viber directly, we will try our best to help you.
Our email: kidney-treatment@hotmail.com
Our WhatsApp/Viber: +8618395615012
Any questions? Fill the form below. You will surely get the free medical advice from experts within 24 hours.