Four "One" Traditional Chinese Treatment Shrink the Cysts in PKD Succesfully
2015-11-21 16:47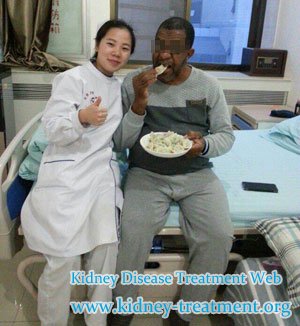 ABDURRAHMAN is a 57 years old man from Nigeria, he was diagnosed as Polycystic Kidney Disease 13 years ago, and 5 months ago his serum creatinine went to high that bothers him a lot. So in order to seek further treatment, he came to our hospital on October 14, 2015. The following are some details about his disease and the treatment he received here, let us have a look at together.
On admission, there is no luster on his face, and his blood pressure is high up to 160/90mmHg. Then our doctor done a series examinations for him, the test report shown that his serum creatinine was 416umol/l, BUN was 18.3mmol/l, hemoglobin is 10g/L.
Physical examination shown that his lower limbs swollen mild, abdominal girth was 131cm. The abdominal doppler ultrasound shown that there are many cysts on his kidneys, the biggest cysts on his right kidney was 44x39mm, the biggest cyst on his left kidney was 45x34mm. Besides that we found that his urine color was as clear as boiled water and no any smell.
After analyzed, our doctor made a treatment plan for him, which was composed by western medicine and Chinese Medicine(Four One Traditional Chinese Medicine). As the times going by, his disease goes well gradually. His face turns to red, and the blood pressure downs to 130-140/80mmHg, abdominal girth reduced to 111cm. The ultrasound shows that the size of biggest cyst on right kidney shrunk to 40x30mm, the size of biggest cyst on left kidney shrunk to 42x34mm. Meanwhile, his urine color goes to cloudy, and the urine smell back again.
I believe that his disease can be controlled well after a period of treatment. I also hope all the PKD patient can get their disease under control just like him.
If you want to know more details about his treatment or need any help in treating PKD, you can send email to us or leave message below, we will try our best to help you.
Our email: kidney-treatment@hotmail.com
Any questions? Fill the form below. You will surely get the free medical advice from experts within 24 hours.