Chinese Medicine Help Kidney Failure Patient with Atrophy kidneys Live a Better Life
2015-12-15 15:48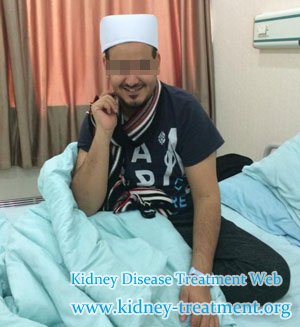 ASIRI is a 28 years old man from Saudi Arabia, due to 8 years of continuous increasing of serum creatinine and 10 years of joint pain he came to our hospital for further treatment on 2ed,Nov,2015.
Disease conditions before treatment:
Blood pressure: 150/100mmHg
Hemoglobin: 128g/L
Protein: 2+
Occult blood: +-
total carbon dioxide: 15.4mmol/L
Phosphorus: 1.93mmol/L
BUN: 25.4mmol/L
Serum Creatinine: 446umol/L
UA: 695umol/L
Besides that both of his kidneys went to atrophy.
Diagnosed as:
Kidney Failure, Primary Hyperuricemia, Gouty Arthritis, Renal Hypertension, metabolic acidosis
Treatment:
According to his disease condition our doctor made a treatment plan for him,, which is Hot Compress Therapy(2times/day), Foot Bath Therapy(2times/day), Enema Therapy(2times/day), Oral Chinese Medicine(2times/day), Maikang Composition(2times/day).
Besides that our doctor also prescribed him some Western Medicines to discharge some toxins and correct the acidosis.
Disease condition after treatment:
Blood pressure: 110/80mmHg
Protein: -
Occult blood: -
total carbon dioxide: 21.3
Hemoglobin: 124
BUN: 13.4mmol/L
Serum Creatinine: 300umol/L
UA: 204umol/L
As a doctor i am so glad to see his disease condition turns to good, i hope that he can have a bright further instead of living in desperation.
If you are a patient who is in the same situation of him or you want to save your close relative out of kidney failure, you can send email to us or consult our doctor on WhatsApp/Viber directly, we will try our best to help you.
Our email: kidney-treatment@hotmail.com
Our WhatsApp/Viber: +8618395615012
Any questions? Fill the form below. You will surely get the free medical advice from experts within 24 hours.