Stage 5 Diabetic Nephropathy Patient Get a Chance to Live Better
2015-12-16 15:53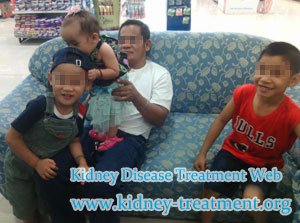 WILLIAM has took dialysis 1 year, in order to live better he came to our hospital on 24th,July, 2015 for further treatment, the following are some details about his disease condition and the treatment he has accepted in our hospital.
Patient Name: WILLIAM
Age: 50
Gender: Male
Nationality: Philippines
Marital Status: Married
Medical History:
Polyuria, polydipsia, polyphagia for three years; elevated serum creatinine for three years; hemodialysis 1 year
Disease condition before treatment:
Blood Pressure: 150/90mmHg
Hemoglobin: 72g/L
BUN: 35.7mmol/L
Serum Creatinine: 1575umol/L
UA: 411umol/L
Urine Protein: 3+
Occult Blood: +
Glucose: 2+
Abdominal ultrasound shows that there are many cysts on his kidneys.
Diagnosed as:
Type 2 Diabetes, stage 5 Diabetic Nephropathy, Renal Anemia, Renal Hypertension, Renal Cyst
Treatment:
Chinese Medicine
Micro-Chinese Medicine Osmotherapy 2times/day, Foot Bath Therapy 2times/day, Oral Chinese Medicine 2times/day, Enema Therapy 2times/day, Maikang Composition 2times/day
Western Medicine
Besides the regular hemodialysis our doctor also prescribed him some medicines to reduce the blood pressure, correct anemia and relieve other symptoms.
Disease condition after treatment:
Blood Pressure: 130/80mmHg
Hemoglobin: 70g/L
BUN: 20.6mmol/L
Serum Creatinine: 978umol/L
UA: 320umol/L
Urine Protein: +
Occult Blood: -
Glucose: -
After his disease turns to stable, he discharged from our hospital. Before leaving here, he said he will come here again to continue his treatment, because he knows that only Chinese Medicine can help him get rid of dialysis and back to normal life.
I really hope he can back to normal life soon, i also hope all the kidney failure patient can have a quality life. If you need any help in treating kidney disease, you can send email to us, we will try our best to help you.
Our email: kidney-treatment@hotmail.com
Any questions? Fill the form below. You will surely get the free medical advice from experts within 24 hours.