The Edema in Nephrotic Syndrome Disappeared
2016-06-04 16:38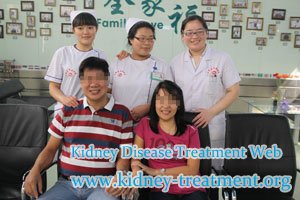 Gao Caiyun a Chinese woman, she is a 22 years old female and have been suffered from Nephrotic Syndrome with edema in eyelids and both lower limbs 5 years. The following are some details about her, let us have a look together.
Five years ago, she got edema in eyelid and both lower limbs, and it is more serious in the morning, then she went to the local hospital to made a further diagnosis. The urine test shown that protein 3+, and the disease was diagnosed as primary Nephrotic Syndrome. So the doctor gave her Prednisone Acetate 45mg/day in the morning. After one month treatment, the edema has no signs to turn good. Review of the routine urine shown the protein 3+, so she decided to discharge from hospital.
Then she went to the people's hospital in Xuzhou, the doctor diagnosed the disease as primary Nephrotic Syndrome just like the previous hospital. But this time her disease goes well due to the different medicines she used. The doctor gave her Prednisone Acetate 45mg/day, Jinshuibao capsule 5pices/time and 3times/day, Huangkui Capsule 2.5g/time and 3 times/day. After 12 days treatment, the edema got relieved, the urine test shown the protein-. Then she discharged from the hospital but kept to take the medicines.
3 years ago, her eyelid and limbs went edema again due to overworked, so she went to hospital again. After that the disease relapse again and again all due to irregular drug use, she always stop taking medicines after the disease goes well.
After she admitted into our hospital, our doctor gave her some Chinese Medicine and Western Medicine at the same so as to control her disease well. After 28 days treatment, her overall condition got improved greatly, the edema in eyelids and lower limbs disappeared.
If you want to know more details about those treatment she received or want to control Nephrotic Syndrome, you can leave message to us.
Our email: kidney-treatment@hotmail.com
Any questions? Fill the form below. You will surely get the free medical advice from experts within 24 hours.