8 Years Extremities Edema in Kidney Failure Disappeared after 25 Days Treatment
2016-06-07 15:39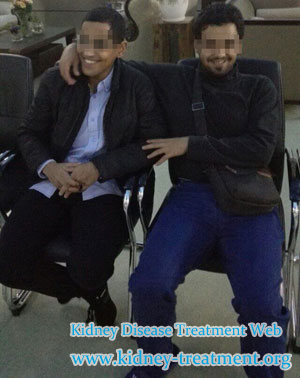 NAIF is a 28 years kidney failure patient from Saudi Arabia, before coming here he had suffered from lower extremities edema 8 years and creatinine elevated 6 months.
On August 27, 2015 he came to our hospital with the hope of controlling his disease, then his blood pressure has up to 150/100mmHg, serum creatinine up to 528umol/L, UA 521umol/L, BUN 29.3mmol/L. Besides that, there are mild pitting edema in his lower extremities.
According to all those test reports, our doctor diagnosed his disease as Kidney Failure, Renal Hypertensention, Renal Anemia, Hyperuricemia, Metabolic Acidosis
So our doctor made a treatment plan for him accordingly, which is consist of fit diet(low-slat, low-fat, low-purine and high-quality protein) and treatment methods(Maikang Mixture, Hot Compress Therapy, Foot Bath Therapy and Enema Therapy).
After 25 days treatment, his blood pressure downs to 120/80mmHg, the edema in his lower extremities disappeared. The test shown the serum creatinine downs to 377umol/L, UA 313umol/L, BUN 18.0mmol/L.
We have confidence to control his disease totally in the near future, so that he can live a quality life.
As we all know, different patient has different disease condition and symptoms, so they should take different treatment and have different diet plan. If you want to control your kidney failure well or want to know more details about those treatments he received here, you can send email to us or leave message below, we will try our best to help you.
Our email: kidney-treatment@hotmail.com
Any questions? Fill the form below. You will surely get the free medical advice from experts within 24 hours.