Kidney Failure Patient from Botswana Get A Chance to Get Rid of Dialysis
2016-06-25 14:32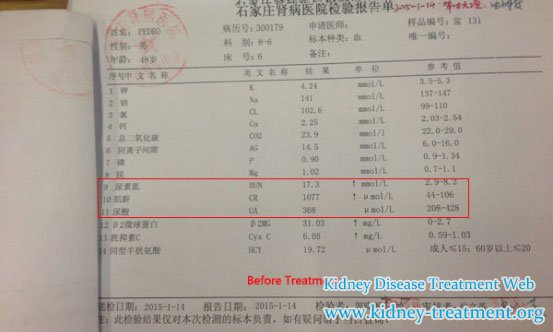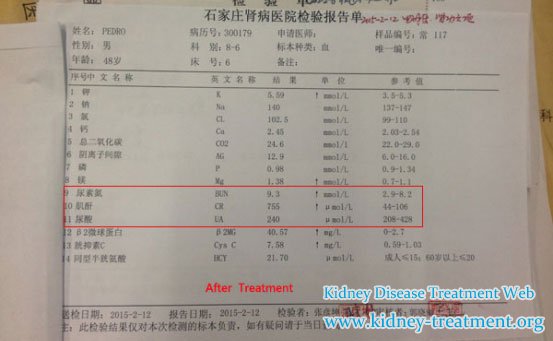 This is a real story happened in Beijing Tongshantang Hospital of Traditional Chinese Medicine, it is about a 48 years kidney failure patient from Botswana, his name is PEDRO. Before coming here to take Chinese Medicine Treatment, his serum creatinine level ever up to 1077umol/L, but after treatment, it downs to 755umol/L. The following are some details about his disease condition and the treatments he received, let us have a look together.
Disease History:
6 years ago, he got cold and then induced a series of symptoms, such as dizzy, headache, lower extremities edema. His blood pressure increased to 150/90mmHg, the test shown that hemoglobin 98g/L, protein3+, occult blood1+, serum creatinine 100.95umol/L, UA 477umol/L.
22 months ago, got cold again, then, weakness, lower extremities edema followed, blood pressure increased to 160/100mmHg. The test reports that hemoglobin 109g/L, protein2+, occult blood 1+, serum creatinine 510umol/L. Then, he had to take dialysis to relieve those symptoms, but after 4 months treatment, there is no obvious improvement, the serum creatinine level once up to 1278umol/L, so he decided to seek help from Chinese Medicine.
On January 14,2015, he came to Beijing Tongshantang Hospital of Traditional Chinese Medicine for the first time, then his blood pressure was 120/80mmHg, the other relative numbers were Hemoglobin 102g/L, protein3+, occult blood+-, Serum creatinine 1077umol/L, BUN 17,3mmol/L
Diagnosed as:
Chronic Glomerulonephritis, Kidney Failure(uremia), Renal Hypertension, Renal Anemia
Treatment:
According to his disease condition, our doctor recommend him Maikang Mixture and
Toxin-Removing Treatment(which is the latest treatment for kidney disease), and he accepted the patient's suggestion. Only after one months treatment, his disease condition got improved greatly. The hemoglobin increased to 125g/L, protein+, occult blood-, serum creatinine 755umol/L, UA 755umol/L, BUN 9.3mmol/L. We believe that he can get rid of dialysis in the near future.
Any questions? Fill the form below. You will surely get the free medical advice from experts within 24 hours.