Diabetes with Stage 5 Kidney Disease Can be Controlled by Chinese Medicine
2017-04-28 18:51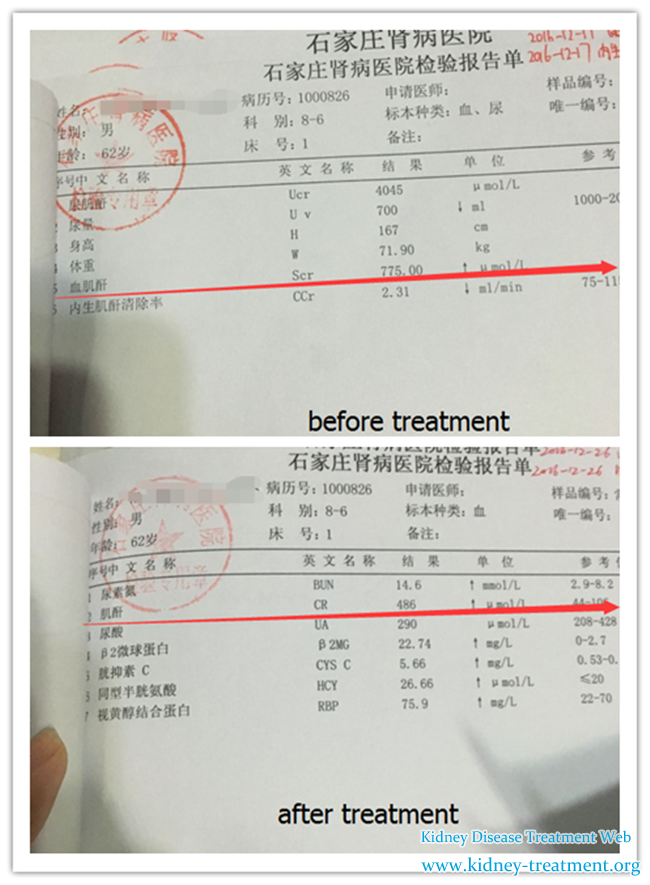 HASSAN is a 62 years old patient from Oman, due to 24 years of discontinuous polydipsia, polyphagia, polyuria and 3 years of high creatinine level, he came to our hospital for further treatment on December 15th,2016.
After he admitted into our hospital, the doctor made a detailed examination for him, we noticed that he has got anemia, the blood pressure up to 150/80mmHg. Besides that, there was pitting edema in his both lower limbs and his sense of touch declined.
The blood routine examination shown RBC(red blood cell count) was 4.05×1012/L, hemoglobin 101g/L.
Electrolyte:
Potassium 5.59mmol/L, total carbon dioxide 15.9mmol/L, phosphorus 2.00mmol/L.
Kidney Function:
BUN 39.8mmol/L, serum creatinine 775umol/L, UA(uric acid)279umol/L.
Routine Urinalysis:
Glucose 3+, albumen 3+, occult blood +-
Blood Fat:
Lipoprotein 1279mg/L, PTH 486.10pg/mL
PA & LAT chest film:
Cardiac Enlargement, Aortosclerosis
Abdominal Sufficiency(ultrasound):
Double kidney diffuse lesions
Cardiac Color Ultra:
Generalized cardiac enlargement, Mitral valve and tricuspid regurgitation(a small amount), hydropericardium(medium)
Diagnosed as:
Type 2 Diabetes, stage 5 of Diabetic Nephropathy, renal anemia, renal hypertension, metabolic acidosis, hyperuricemia, eyes of diabetic retinopathy, DPN(Diabetic Peripheral Neuropathy), secondary hyperparathyroidism, uremic cardiomyopathy
Treatment in our hospital:
According to his condition, our doctor made a treatment plan for him. There are six Chinese Treatments in it, they are Maikang Mixture, Hot Compress Therapy, Foot Bath Therapy, Edema Therapy, Oral Chinese Medicine and Inunction therapy. Those treatments aims at protecting kidney function and correcting kidney disorder.
After 7 days treatment, his disease condition got improved greatly. The BUN decreased to 9.5mmol/L, serum creatinine downs to 486umol/L, UA downs to 149umol/L.
After 19 days treatment, the edema disappeared, his appetite and sleeping quality got improved greatly. Besides that, other indicators also got improved in different degrees, you can seen it on the test reports.
If you want you to know more details about those treatments he received or want to control Diabetic and kidney disease well, you can send email to us or leave message below, we will try our best to help you.
Our email: kidney-treatment@hotmail.com
Any questions? Fill the form below. You will surely get the free medical advice from experts within 24 hours.