A Successful Case: Chinese Therapies In Treating PKD
2014-02-10 08:19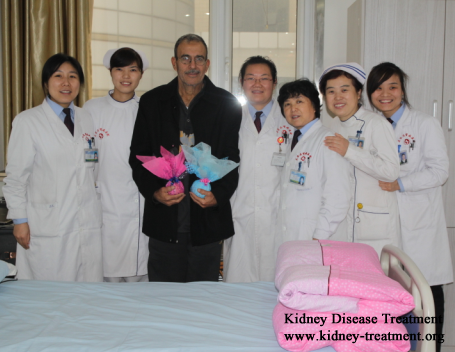 On February 6th, we were happy to receive the call from uncle Hassan who left our hospital one month ago. Uncle Hanssan is a PKD patient who has been defeated with this kidney disease for many years, and he went to our hospital two months ago.
From the call, Uncle Hanssan was very happy and share his recent test reports to us. He said he felt better now, and his creatinine level is 4.1 mg/dl and his hemachrome is 114 now. We were so glad to hear that, we know our Chinese therapies have helped the kidney disease patients again.
We still remember that when uncle Hanssan came into our hospital the first time, he felt so weakness and tiredness that he even didn't want to make any talk with other people. He also had a poor appetite with only 72 kg body weight.
After he came into our hospital, we make some texts to him, and got the creatinine level is 6.5, high blood pressure 160/90, hemachrome 94, and he also easily feel cold, and has no sweat. Our experts made a systemic treatment for him, so when he came into our hospital for three days, he began to have systemic treatments. The Chinese therapies used for him contained Micro-Chinese Medicine Osmotherapy, medicated bath, foot bath, acupuncture therapy and some other adjunctive therapies.
After he received medicated bath for the second and third time, he felt obvious improvements on his illness, such as feeling warm of the body, and having sweat, which means the Chinese herbal medicines have make function to his illness. After the systemic treatments, uncle Hanssan felt much better and his mental state began to become better, and he liked to talk with our doctors and nurses. In addition, his sppetite was also improved, and his body weight increased into 74 kg.
He was hospitalized in our hospital for a month, and when he came home, he also took some oral herbal medicines which he need to take at home. Now uncle Hanssan is much better in his condition, and we are all glad that Chinese Medicine Therapies has been helped him.
From this successful case, we hope we can help more kidney disease patients, and help them improve their life quality and improve their life expectancy.
Any questions? Fill the form below. You will surely get the free medical advice from experts within 24 hours.