Chinese Therapies Help Diabetic Nephropathy Patient Improve His Illness Condition
2014-02-05 06:14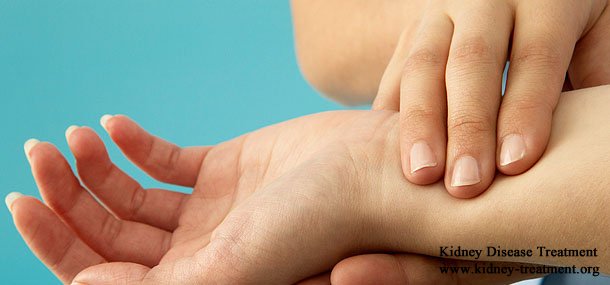 Diabetic nephropathy is a common kidney disease which is caused by a long-term uncontrolled diabetes. For diabetic nephropathy patients, they may suffer from some serious symptoms and complications, which will make them live in a poor life quality.
Recently, a patient who has diabetic nephropathy came into our hospital. 5 years ago, he found himself drunk a lot and had more urination, and 3 years ago, he had serious swelling in lower limbs. In that condition, his doctor asked him to take some medicines which can help relieve his symptoms. However, the swelling became more serious 1 years ago, so his doctor recommended him to have below-knee amputation. With strong disagreement, he was cut the right toe. In that time, he was diagnosed with end stage diabetic nephropathy.
Six months ago, he went to Dubai to have treatments, and because of high creatinine level and high blood pressure, he started dialysis for one month, which is 3 times a week. After a month dialysis in Dubai, he went back to his country and had dialysis twice a week. But after dialysis, he always has the symptoms of fever, cold feeling, low feeling and sickness in body.
In order to get further treatment and slow down the progression of kidney failure, he chose come to our hospital, China.
When he came to our hospital, he cant even walk by himself, and he had moderate swelling in his lower limbs. Besides, he also had blurred vision, acidosis, fatigue and poor spirit. Through a systemic tests, his blood pressure is 180/100mmHg, hemochrome 91g/L, creatinine 1211umol/L, and the 24 hours amount of urine is 100ml.
After the systemic tests, our experts in hospital have a conversation to make a systemic treatment project for this patient. Through 20 days limited diet, and the treatments of Foot bath, Enema therapy, moxa-moxibustion and Micro Chinese herbal medicine therapy, the blood circulation of this patient is improved and the kidney tissues is improved, which help patient slow down his progression of completely kidney failure. Meanwhile, we also give blood purify therapy, which help the patient lower his blood pressure and creatinine level. After treatment, his blood pressure is 120/80mmHg, creatinine level is 95o umol/L, and the 24 hours amount of urine increases to 400ml. Besides, swelling is disappeared and the patient has a good spirit, and he become more confident for his illness.
Now the patient in our hospital is very grateful for our doctors and nurses, he said without our treatment, he may have lost his legs or even worse. He hope more patients who are in the same condition with him can get the best treatment, and live a long life.
Any questions? Fill the form below. You will surely get the free medical advice from experts within 24 hours.