Lupus Nephritis: Say Goodbye to Severe Swelling
This article was provided by doctor zhengfalei 2013-09-09 14:36
"Because of Lupus Nephritis, I have many symptoms including severe swelling throughout the body, sleep problem, enlarged abdomen, nausea and vomiting. Before coming here, I ever thought the thing what I do is to waiting death. Thanks to my doctors and nurses. Without their specialized treatments, I can't get a new life." Mrs. Zhao says with a smile.
Mrs. Zhao is 42 years old, and she is diagnosed with stage 5 Lupus Nephritis. It has been 7 years that she has joint pain and fever along with skin rash. In recent months, because of severe swelling all over the body, she even can't walk normally. Therefore, The first time we saw her, she is sitting at the wheel. At that time, her blood pressure is 180/120mmHg and her weight is 59.8kg.
As soon as she came to our hospital, her doctor firstly make an accurate diagnosis that reveals SLE, Lupus Nephritis (V+IV), renal anemia and renal hypertension. To guarantee she can get effective treatment , we held an expert consultation. Finally, a systemic treatment is made that includes plasma exchange, diuretic, transfusion of blood plasma, external herbal medicines, etc.
After one month's hospitalization, Mrs. Zhao's health condition is improved largely. Here, it is the contrast of therapeutic effects before and after treatment.
| | | | | | | | | | |
| --- | --- | --- | --- | --- | --- | --- | --- | --- | --- |
| | Hemoglobin | RBC | Proteinuria | Hematuria | Bp | Appetite | Swelling | R-WBC | Weight |
| Before treatment | 89g/l | 2.90×1012/L | 3+ | 1+ | 180/120mmHg | Poor | All over the body | 4-7/HPF | 59.8Kg |
| After treatment | 96g/l | 3.09×1012/L | 3+ | - | 130/90mmHg | Good | Ease largely | 0-2/HPF | 44.6Kg |
Before the treatment: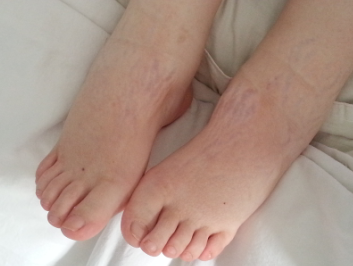 After the treatment: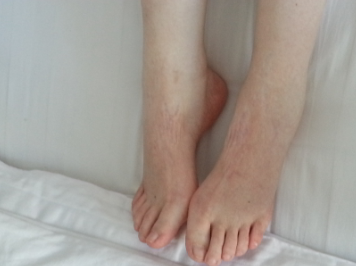 Now, Mrs. Zhao's Lupus Nephritis is controlled very well, and she begins her brand new life without severe swelling. If you are also suffering from severe swelling due to Lupus Nephritis, hopefully you can also say goodbye to swelling and other symptoms.
Any questions? Fill the form below. You will surely get the free medical advice from experts within 24 hours.