Letter Of Thanks From A CKD Patient's Relative
This article was provided by doctor zhengfalei 2013-09-10 15:37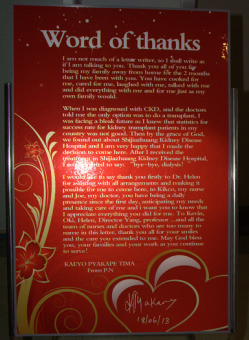 My name is Fatima Muhammad Tata a patient's relative of Rabi Ibrahim who is a kidney disease patient (CKD).
I wish to express my sincere gratitude and appreciation to the entire staff of International Department, Beijing Tongshantang Hospital of Traditional Chinese Medicine, Hebei province, China.
In terms of Rabi's condition, we really appreciate your Chinese Herbal Medicine, and her body is sensitive to the medicine. Because we really saw the effect. When she came to this hospital, her urine volume is less than 100ml and now is over 1000ml. And she also did not see her menstruation for 5 months. But after she received this treatment, she saw her menstruation this month. She has swelling all over her body, but after the treatment, it goes, she become stable after the treatment, she becomes light as her normal skin. Before, she has some black spot on her face and they have gone after the treatment. Like her lip, it becomes reddish and after the treatment it changed to the normal color. Also her dialysis was prolonged as her creatinine level was reduced a lot.
Oh! My appreciate goes to Director Yang, our Doctor in charge. Candy and her sister Cacy, we did not forget you, thank you for making Rabi's life better.
Our Head Nurse, thank you for the love, care and concern you showed to us in your hospital.
The most important thing is, my word of thanks goes to our nurse in charge Phoebe and her assistant Emily among the period of our stay at the hospital. They made us really feel at home comfortable and memorable. I would like again to say a very big thank you to my friend Ma Xuejiao(Sindy).
I am indeed grateful to the entire experts, doctors and nurses of the International Department. You have been very cooperative towards us. Our nurse in charge we really miss you, you keep up the way your behaving and continue dedicated to your job. Wish god reward you.
We again say thank you to this International Department, Beijing Tongshantang Hospital of Traditional Chinese Medicine. You should really keep it up, we miss you!
Fatima Muhammad Tata
7th August, 2013
Any questions? Fill the form below. You will surely get the free medical advice from experts within 24 hours.