Symptoms of Five Types of Purpura Nephritis
2013-09-27 14:36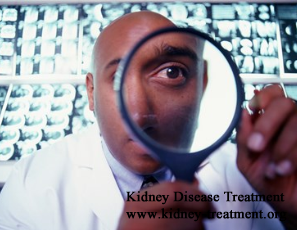 Purpura Nephritis is divided into five patterns according to renal histology changes. There are great differences in the symptoms of five types of Purpura Nephritis.
Acute purpura nephritis syndrome:
This syndrome mainly belongs to focal hyperplastic nephritis or diffuse proliferative GN according to the renal histology changes. There are protein urine, blood urine, edema and hypertension in this pattern. This pattern often occurs rapidly.
Slight purpura nephritis:
This pattern mainly belongs to mild abnormality or focal segmental changes in pathology. Its symptoms mainly present as blood urine, protein urine. Edema, hypertension, kidney damages would be seen in this pattern. The occurrence rate is relatively high in these five patterns.
Chronic purpura nephritis syndrome:
The pathological change of this pattern is diffuse proliferative changes, and crescents may form in this process, or there may be glomerulosclerosis. The process of falling ill is long, and kidneys often have different degrees of damages. The inflammation can continually exist even the symptoms on skin have disappeared. This pattern is often seen in adults.
Purpura nephropathy syndrome:
In this pattern, the glomerulis have severe pathological changes. Kidneys suffer from diffuse proliferative nephritis, and crescents of different degrees appear at the same time. This pattern has the symptoms of nephropathy syndrome, like edema, protein urine, hyperlipemia and hypoalbuminemia. Surely, the prognosis of this pattern is often very bad.
Radical purpura nephritis:
More than half of this case will have crescents. This pattern often turns up rapidly, and the amount of urine declines very soon. Kidneys experience progressive damages, and patient can die of kidney failure in a short time.
There may be some other symptoms in each pattern, such as anemia, nausea, vomiting, bone diseases, headache and fever, etc. The passage is a summarization of each type. If you need any other information, you can contact us, and we are glad to help you.
Any kidney problems? Please consult our online doctor. The satisfaction of patient is as high as 93%.
Have a question regarding kidney disease? Get an answer from Medical Professional now!