The Clasification of Kidney Disease and How To Avoid Uremia
2018-07-07 14:02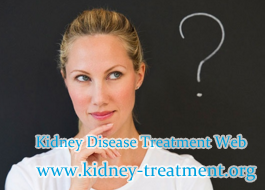 Ninety percent of patients will say that they are afraid of bad treatment and their condition will worsen and deteriorate to uremia. Not only in the renal failure of the kidney patients so say but also to people who have just discovered chronic nephritis will say so.
It can be seen that although people develop different degrees of illness or are in different stages, the source of fear is the same. Before the future of uremia, to prevent uremia or delay the progression of renal function,What to do? The key is to grasp these two points:
One: Focus indicator that cannot be ignored - blood creatinine ;
The normal value of serum creatinine is lower for women than for men, and children are relatively low:
male: 53-106 micromol/l (0.6 to 1.2 mg/dl);
Female: 44-97 micromol/l (0.5-1.1 mg/dl);
Pediatrics: 24.9-69.7 micromol/L (μmol/L).
Explanation: The normal value of creatinine may not be the same in all hospitals. The standard in our hospital is 44-133 μmol/L.
According to the creatinine value, the development of renal function is divided into four phases:
133μmol/L-186μmol/L was the inflammation period.
186μmol/L-451μmol/L was the period of renal function injury;
451μmol/L-707umol/L was the stage of renal failure.
A serum creatinine value of more than 707umol/L means that the disease has progressed to uremic phase.
This shows that the kidney patients must grasp the first three stages in order to avoid uremia. The period of renal inflammation damage is not yet damaged renal parenchyma, the condition can be treated or even cured. The kidney patients at this stage must pay attention to the condition and timely treatment.
The second and third stages of renal function have been impaired and are irreversible. Therefore, it is necessary to control creatinine elevation at this stage.
According to the all explanation above about the serum creatinine level the kidney patients must accept the reasonable treatment in time ,they must go to the professional doctors and get the accurate test result in the professional kidney hospital. As the international kidney hospital--Beijing Tongshantang Hospital of Traditional Chinese Medicine, we have accepted lots of foreign kidney patients, and our kidney experts have developed a systemic natural treatment through long time clinical practice. The natural treatment can help patients repair the damaged kidney cells and improve the kidney function, then the high creatinine level will decrease to the normal range naturally. If you want to know more detailed information about that or any questions about that please contact us through the following message:
E-mail: kidney-treatment@hotmail.com
Kidney Treatment Group:
Any questions? Fill the form below. You will surely get the free medical advice from experts within 24 hours.