Will Drinking Diet Soda Cause Kidney Disease
2013-09-25 14:51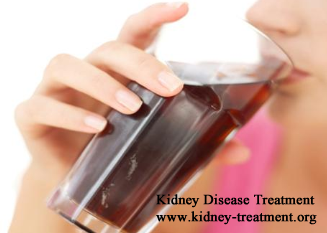 Diet soda is considered to be good for our health, so many people have turned to diet soda in an effort to drink healthier carbonate beverages. However, a recently studies point out that drinking diet soda may cause kidney disease and permanent kidney damages.
How does diet soda affect kidney?
Diet soda is typically sugar-free, artificially sweetened and non-alcoholic carbonated beverages. It is said the artificially sugars used to sweeten diet soda can force our body to crave more calories than we need. In that case, we will overeat and run a high risk for Diabetes which is the number one cause of Chronic Kidney Disease in the world. Besides, diet soda contains high levels of sodium and this is also believed to be able to contribute to the occurrence of kidney damages.
Kidney is an important organ with function of filtering blood, producing urine, keeping balance of water and electrolyte. When kidneys are damaged, they will lose their working ability and cause a series of symptoms like high blood pressure, metabolic disturbance, reduced urine output and swelling and so on. Under such a condition, drinking diet soda with aggravate these symptoms and worsen illness condition. Therefore, for kidney disease patients, they should try to stay far away from diet soda. And for these who have no kidney problem at all, they should avoid drinking too much diet soda.
What to drink with kidney disease?
Since diet soda is not suggested for kidney disease patients, what can they drink in daily life? To protect residual kidney function well, kidney disease patients can try to drink some boiled water, cranberry juice and green tea.
Water: when it comes to water and kidney disease, one thing that we have to mention is that kidney disease patients who have severe swelling or pulmonary edema should limit water intake, as drinking too much water will increase kidney burden and aggravate their symptoms.
Cranberry juice: Cranberry juice is suggested as it can help to prevent urinary tract infection which may spread to kidney infection and accelerate kidney problem.
Green tea: Green tea has lots of health benefits, but it is only available for kidney disease patients who have no kidney stone.
Any kidney problems? Please consult our online doctor. The satisfaction of patient is as high as 93%.
Have a question regarding kidney disease? Get an answer from Medical Professional now!