What Is the Diet for CKD
2013-09-16 10:19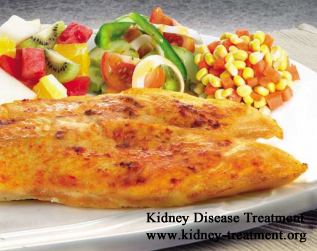 We all know that food plays essential roles in our daily lives, maybe you know how to keep healthy as a normal one, but do you know what foods can you eat and what you'd better not eat if you have CKD. If you are a CKD patient, your kidney will not working well. And it can affect your other organs as well. Changing your diet can help protect your kidneys. It can also help you control other diseases, such as diabetes and high blood pressure.
In CKD, kidney can not remove the waste material from the body. Hence it is necessary to avoid further damage. Because the causes of CKD are different, the diet must be a little different. But there are still common parts of every CKD patients.
Potassium
Around 90% of the potassium in our diet is removed by the kidney, so kidney plays an important role in keeping potassium level in a normal range 3.5-5.0 mEq/L. so anything higher than that must be noticed and paid more attention to it. But if you are in stage 5 CKD, your kidney is difficult to remove the potassium from the body just because your kidney is damaged. So, controlling potassium is very important.
Here are some foods and vegetables that contain large amount of potassium. For CKD patients, they need to avoid eating these foods: Vegetables like beans, potatoes, tomatoes, spinach and fellow leafy vegetables, sweet potato and animal protein. Fruits like avocado, kiwis, oranges, papayas, banana and cantaloupe.
Salt (sodium)
For CKD patients, they need to limit salt intake, as high slat intake will increase kidney burden and worsen kidney condition. To achieve this goal, they need to stay far away from canned food, pickles, smoked meat, some frozen foods, processed cheese, packed chips, junk food and crackers and so on.
Protein
Low-protein diets is helpful for CKD patients, as high protein intake will aggravate their proteinuria symptom and worsen illness condition. Hence, they need to limit protein intake, but they can ingest some high quality protein in their daily life like lean meat, egg white, fish and milk and so on.
Phosphorus
Phosphorus consumption for normal people as well as for people with CKD non-dialysis is 2.7 to 4.6 mg/dL. For CKD dialysis patients the target range is 3.5 to 5.5 mg/dL. If you have a higher phosphorus level, you should notice these things: dairy products, nuts and beans (the main sources of phosphorus) and drinks and beverages like cocoa, cold drinks and beer.
Fluids
Normal people drink water everyday, and it is important of people to drink a large amount of water, but for a patient of CKD, fluid intake must be watched. More than 48 fl oz (1.4 L) of fluids a day must be avoided. What are fluids? Edible things that are liquid at room temperature are known as fluids. Such as: soups, ice creams, Jell-O, etc. Some fruits like apples, orange, grapes and vegetables like lettuce also contain a lot of water. Avoid eating such fruits if you have dropsy, because over taken fluids may lead to sever dropsy and cause other complications.
These are some general ideas about how to arrange a diet if you are a CKD patient. If there is anything unclear, please feel free to consult us.
Any kidney problems? Please consult our online doctor. The satisfaction of patient is as high as 93%.
Have a question regarding kidney disease? Get an answer from Medical Professional now!