Is Popcorn Okay to Eat with Chronic Kidney Disease
2013-09-23 15:30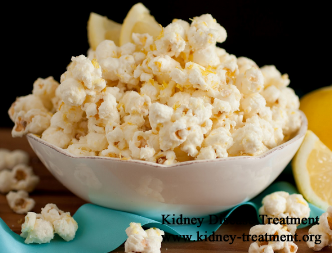 When we go to a theater, usually we buy a bag of popcorn. It is one of the most enjoyable things to eating while watching. But can Chronic Kidney Disease patients eat popcorn?
To know if popcorn is okay for CKD patients, we must know the nutrition in popcorn and whether it is good for CKD patients.
Popcorn contains more antioxidants than the same amount of fruits and vegetables. Antioxidant is a kind of substance that can prevent the harmful effect of oxygen in our body. If there is too much oxygen in our body, the cells will accelerate aging. So taking in proper amount of antioxidants is good for our health. Besides, antioxidant is also a substance that helps capture and neutralize free radicals, then remove the damage of free radicals to human body.
Popcorn contains fiber and is the only snack that's 100% whole grain. Fiber can lower the potassium sodium ratio in our blood hence lower blood pressure, so it is better for chronic kidney disease patients who have high blood pressure. Besides, fiber can accelerate the movement of intestinal tract and speed up feces excretion. In this condition, the time that toxins and wastes stay in our intestinal tract is shorten, and the stimulation to our intestinal tract is reduced.
Popcorn contains some B vitamins and minerals such as manganese, magnesium, iron, and zinc. B vitamins can regulate proliferation and death of cells, so it is very beneficial to CKD patients.
Not all kinds of popcorn are good for patients who have chronic kidney disease. There is a lot of sugar and cream in processed popcorn. It is not good for CKD patients who have diabetes. If you want to eat popcorn, make it by yourself. Remember not to eat too much. Eating too much in a single sitting can cause nausea and intestinal discomfort and may result in embarrassing gas. And it will add burden to your kidney.
If you have special diet or have dialysis, ask your doctor whether you can eat popcorn or not. You can also send us an E-mail:kidney-treatment@hotmail.com if you have any questions.
Any kidney problems? Please consult our online doctor. The satisfaction of patient is as high as 93%.
Have a question regarding kidney disease? Get an answer from Medical Professional now!