Can I Eat Natural Potato Chip if I Have CKD
2013-09-24 10:04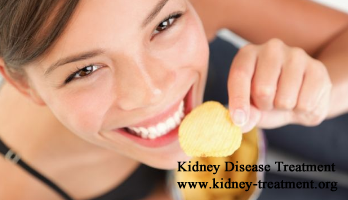 As a CKD patient, may be you have been warned not to eat processed food such as potato chip and juice. But recently many patients ask us whether they can eat natural potato chip or not. In fact, according to the Wall Street Journal:"Making snacks with natural ingredients doesn't necessarily make them healthy, nutritionists and industry critics caution, even if they are potentially less bad. That includes potato chips."
Why cannot CKD patients eat potato chip?
1 Potato chip is cooked at a high temperature and when they are processed, carbohydrate-rich foods like potatoes will form a kind of tasteless, invisible chemical byproduct -- acrylamide. Acrylamide has a cumulative effect and it is a kind of probable human carcinogen, because too much of it are harmful to our cerebral cortex, epencephalon, thus lead to numbness of lower limb. CKD patients had better eat less potato chips since the filtration function of their kidneys are impaired.
2 Tempting seasonings and too much salt are added in potato chips. It is not a very big problem for healthy adults but not to CKD patients. When we eat chips, we will not stop unless we eat up the whole bag. Thus may take in too much salt and thus will increase blood pressure. High blood pressure is the main complications of CKD. It adds the risk of having cerebrovascular disease such as hemiplegia, urinary incontinence and so on.
3 Too much oil is not good for your health whether you have CKD or not. That is because there are too much saturated fat and cholesterol. Too much saturated fat and cholesterol will harden your arteries and accelerate the aging of organs. That is to say, if you take in too much oil, you blood circulation will not be in normal way and there will be blocks in your vessels.
Pay more attention to your health condition if you are a CKD patient. Ask your doctor or our free online doctor what foods you can eat and can not eat. All in all, eat less natural potato chips and lower the risk of complications.
Any questions? Fill the form below. You will surely get the free medical advice from experts within 24 hours.