What to Eat if Creatinine is High in Chronic Kidney Disease
2015-01-25 17:22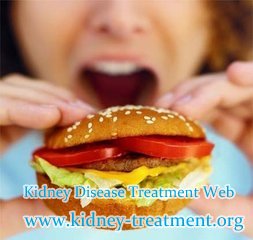 What to eat if creatinine is high in chronic kidney disease ? You know that diet plays an improtant role in treating kidney disease, especially in lowering the high creatinine level. So for kidney disease patient with high creatinine level what should they eat ?
1. Foods with high-quality protein
It is know that take too much protein will increase the creatinine level in blood so people should not take too much of foods with protein, but as known to all, protein is the irreplaceable nutrition for our physical development and mental development. So patient should take adequate foods with high quality protein which can supply their body necessary nutrition and meanwhile causes less burden. In our daily life, foods like fish, lean meat, egg white, and milk are the major sources of high quality protein.
2. Fruit or foods have no or low in soduim
Low sodium vegetables and fruits include artichoke, bell pepper, broccoli, carrots, radish, sweet potato, apples, apricots, pineapple, kiwifruit, mangoes and peaches and so on. For people with high creatinine level, it is necessary for them to select fruits and vegetables without or low in sodium, but please remember limit the intake of them, as they may be harmful for patients in another way.
3. Foods high in calcium
Paying attention to calcium intake is very necessary, as kidney failure patients run high risk for hypocalcemia which may bring them bone problems like bone pain and bone fracture. Therefore, eating much more foods high in calcium like blackberries, date fruit, quinoa, broccoli and gis is helpful. In addition, some of these foods are high in potassium and for kidney disease patients, they need to consult their doctors before they eat these foods as some of them may be experiencing high potassium.
The above are some general tips for kidney disease patient with high creatinine leve, but as we all know different people have different disease condition, so they need make diet plan according to their own condition. If you need any help in making your diet plan or treating kidney disease, you can contact our online doctor directly, we will try our best to help you.
Any questions? Fill the form below. You will surely get the free medical advice from experts within 24 hours.