Is Parsley Good for Patient with Chronic Kidney Disease
2015-02-02 15:07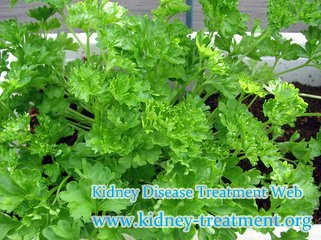 As we all know diet plays an important role in treating kidney disease, so people with kidney disease need to pay high attention to the food they eat. And parsley as one of the popular food is love by many people for its good taste as well as medical values. Is it good for patient with chronic kidney disease ?
The function of parsley
Improving bone health
Vitamin k contained in parsley can improve bone health by acting a modifier of bone matrix proteins, improving calcium absorption and decreasing urinary excretion of calcium.
Enhancing immune system
Parsley may help boost the immune system. The essential oil in parsley has been proven to be effective to suppress an overstimulated immune response, which plays crucial role in fighting against allergies, auto-immune and persistent inflammatory disorder.
Reliving Urinary Tract Infections
The medical values found in parsley can be served an antibiotics alternative to remedy urinary tract infection.
Providing potassium
Potassium is a mineral abundantly contain in parsley, which helps to contribute to the overall maintenance of good human health. Potassium is believed to contribute to alleviate bladder and kidney problems, such as kidney infections or kidney stones. But, potassium also can contribute to increase water retention. If patients are high in potassium level, you should limit the intake of parsley.
From the above we can see that kidney disease patient should take a certain amount of parsley according to their own condition. If you want to know how much parsley you can eat, do not hesitant to leave message to us, we will try our best to help you.
Any questions? Fill the form below. You will surely get the free medical advice from experts within 24 hours.