Can Kidney Disease Patient with High Creatinine Level Eat Dried Anchovies
2015-02-11 13:55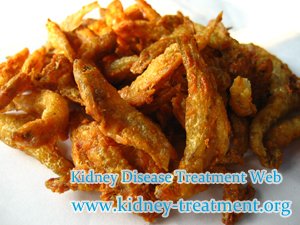 "I am a kidney disease patient and suffer from high creatinine level. Can i eat dried anchovies. What are the food that i can have and foods that i should avoid ?" this is a question from our online doctor(if you have other questions, you can chat with online doctor directly). Next i will give you the answer about can people with Chronic Kidney Disease with high creatinine level eat dried anchovies, hoping it can help you.
In fact, fish is rich in protein and other nutrition, it is benefit for people. But as a patient with Chronic Kidney Disease, he may need to avoid to eat foods with high protein, that is to say they have to avoid to eat fish. Fortunately, they have not need to avoid fish absolutely, that is because fresh-water fish is rich in high-quality protein, that can supply enough protein for patient without hurt kidney or bring burden to kidney. So as a patient with kidney disease, they can choose some fresh-water fish. But dried anchovies is high in salt and potassium, both of them are not good for patients with kidney disease. So for people with Chronic Kidney Disease with high creatinine level, they should not eat dried anchovies.
So, as a kidney disease patient you should pay special attention to the food you eat, do not let the foods bring unnecessary burden to your kidney. If you don't know what should to eat, you can consult our experts by email or leave messages below, we will supply diet information according to your own disease condition.
Diet can help kidney disease patient relieve the symptoms of the disease, but can not cure it. So if you want to live better, you'd better find a proper treatment. If you need any help in curing your disease, you are welcome to contact us, we will try our best to help you.
Any questions? Fill the form below. You will surely get the free medical advice from experts within 24 hours.