Diet Tips and Specific Food Suggestions for Kidney Disease Patient
2015-02-16 15:10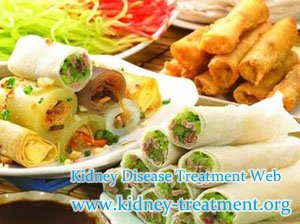 It is known that fit food can protect the kidneys form further damage, but the unfit food will add work load to the kidneys, even hurt them, so diet plays an important role in treating kidney disease. But different people have different symptoms so they should have different diet plan, the following are some general diet tips and specific foods suggestion, hoping they can help you lower your high creatinine level.
Diet tips:
For people with swelling in body, they should limit the intake of water and keep low-slat food
For people with high protein leakage, they should limit the intake of protein
For people with high creatinine level, they also should keep high-quality protein intake
For people who are in advanced stage of kidney disease, they also should limit the intake of potassium.
Specific food suggestions:
In our daily life, some common foods do have the lowering-creatinine or lowering-urea property.
1. Berries: Cranberries, blueberries, strawberries, etc, all contain rich vitamin C, which is proven to have an effect of increasing kidney filtration rate. This is able to eliminate more creatinine and urea from the body.
2. Cucumber and bitter gourd: You can consume them as either vegetable or juice. Both of them can stimulate the kidney to produce more urine, taking away more waste products.
In one word, kidney disease patient should make diet plan according to their own condition. If you need any help in making it, you can leave message to us with your detailed kidney disease condition, we will make diet plan for you for free.
If you have other questions or need any help in treating kidney disease, you are welcome to contact our online doctor directly, we are here waiting to help you.
Any questions? Fill the form below. You will surely get the free medical advice from experts within 24 hours.