Can Chronic Kidney Disease Patients Eat Black Beans
2015-03-05 16:50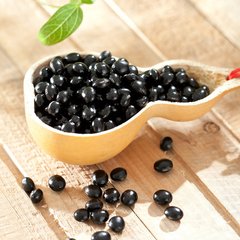 Black beans are rich in protein and many kinds of minerals and microelements, so it is very popular with many people. But you know that kidney disease patient has high demand in diet, they should pay high attention the the foods they eat, then can chronic kidney disease patient eat black beans ?
You know that everything has two sides, so we should treat it correctly, not only see its advantages, but also its disadvantages, thus we can use it wisely.
For one hand, there are many advantages of black beans, one is for young women, as it is filled with rich vitamins, and vitamin E, which is a quite important element which can keep young and beautiful, so the black beans have the capacity of raising corlors. Two is for our digestive tract, there are 40% of crude fiber in black beans, and it also can improve digestion, so it is able to prevent constipation. Three is related with our brain, there are 2% of lecithin in black beans, so the black beans can supply the demand of brain so that defer organism aging, decrease blood viscosity, finally avoid brain becoming dull. Fourth, low calorie. There are 19% of fat in black beans, and it can decline the effects of cholesterol in blood, and for old people, it also can sofen blood-fat blood vessels, which benefit some senile diseases like hypertension, heart disease, livers and so on.
For another hand, the protein content is 36%-40%high in black beans, which is twice of meat, and third times of eggs, and twelfth times of milk. As a result, it's not suggested to eat black beans for kidney disease patients who has proteinuria, in case make the proteinuria increase. And some other kidney disease patients, it all depends on the patient's condition, no black beans are better, if they want to, asking the doctor for advice is a good choice.
If you have other questions or need any help in treating chronic kidney disease, you can send email to us or leave message below, we will try our best to help you. Our email: kidney-treatment@hotmail.com
Any questions? Fill the form below. You will surely get the free medical advice from experts within 24 hours.