Is Yogurt Good for Stage 3 CKD
2014-02-17 06:40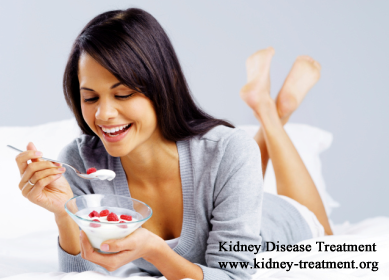 Yogurt is a diary product which is popular for many people, and its delicious tastes attract more and more people all over the world. Besides, yogurt also good for the health of people. However, yogurt is not good for all the people, because yogurt will not be good for people with kidney malfunction or kidney disease.
For stage 3 CKD patients, their kidneys have been damaged moderately, so they may suffer from some serious symptoms such as proteinuria, blood urine, high blood pressure, swelling and anemia. All these make them need to pay attention to their daily diet and to know exactly what to eat and what cant eat. Because a kidney-friendly diet will help them reduce the kidney burden and protect the residual kidney function.
Yogurt are high in phosphorus and protein, so CKD stage 3 patients need to limit the yogurt intake. Because the reduced kidney function will cause high phosphorus level in blood, if they take more yogurt, the phosphorus level will be increased more seriously. And high phosphorus level will decrease the level of calcium in blood, which will cause serious bone problems.
In addition, yogurt is high in protein, if CKD stage 3 patients take more yogurt, it will increase the amount of the waste products of protei such as nitrogen and creatinine, which will increase the kidney burden and cause further damage to kidneys. So CKD stage 3 patients also need to reduce the yogurt intake in their daily life.
From above, we can know that yogurt is not good for stage 3 CKD patients, so they need to limit the intake of yogurt in their daily life, besides, they should also avoid some other diary products such as cheese, milk and so on. CKD stage 3 patients can ask the advices of their doctors to make sure how much yogurt they can take depending on their illness condition.
Any questions? Fill the form below. You will surely get the free medical advice from experts within 24 hours.