What Would Be the Best Diet to Lower Creatinine Level
2013-10-12 13:36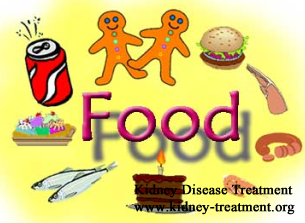 What would be the best diet to lower creatinine level? We are asked to be careful about foods we eat in our daily life when our creatinine level is elevated due to kidney disease, as it is said a well-planed diet is helpful for lowering creatinine level in blood. Well then, what would be the best diet to lower creatinine level?
As for kidney failure patients, a diet that cause no further damages on kidney and meanwhile plays a part in restoring kidney function can be regarded as the best diet. Usually, such a diet includes:
A proper protein intake
How much protein is needed for people to lower creatinine level? Actually, there is no exact answer about this problem. In cases of kidney disease, protein leak into urine due to the increased permeability of glomerular filtration membrane. Under such a condition, the more protein patients get from food, the more protein in urine and also the higher the creatinine level is. Therefore, a proper protein intake is very important ant how much protein is needed depends on patients' specific illness condition. (You can send your test report to kidney-treatment@hotmail.com, nephrologists will help to figure out the proper protein intake)
Low-sat diet
Creatinine level in blood becomes higher and higher if kidney disease can not be tightly controlled. High blood pressure is a common health problem which can worsen kidney disease directly, so it is necessary for kidney disease to bring their blood pressure into normal rang, so that they can have a tight control about kidney disease. To achieve this goal, they usually need to follow a low-salt diet and stay far away from salty foods.
Low potassium intake and low phosphorus intake
Electrolyte disorder is a common problem among kidney disease patients, as kidney is responsible for keeping balance of electrolyte. In cases of kidney disease, hyperkalemia and hyperphosphatemia are the two common electrolyte disorder, so once being diagnosed with kidney disease, they need to be very careful about potassium intake and phosphorus intake, so as to protect residual kidney tissues and prevent further increase of creatinine level.
Eat less meat
Creatinine is produced when meat or muscle is metabolized in our body, so eating less meat will help to lower creatinine level.
Any questions? Fill the form below. You will surely get the free medical advice from experts within 24 hours.