Is There Any Medicine to Lower High Creatinine Level Effectively
This article was provided by doctor zhengfalei 2013-11-13 09:19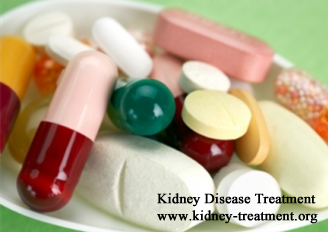 If your creatinine level is higher than 1.2mg/dl, it is more likely to indicate some healthy problems especially kidney disorders. Then, medications to lower high creatinine level is needed urgently. Here, you may ask: is there any medicine to lower high creatinine level?
In clinic, there are mainly two types of medicines to lower high creatinine level: western medications and herbal medications. Usually, western medications can reduce creatinine level quickly, but they can do nothing to restore kidney function and have many side effects. Herbal medications need a relatively long time to work, and they aim to decrease creatinine level by improving kidney function and increase kidney filtration rate, so they have fewer side effects. The following, we will introduce some typical drugs for reducing elevated creatinine level.
1. Western medicines
Diuretics: These medicines work by increasing kidney output so as to remove more waste products and toxins from the body. However, regular use of diuretics in long time may in turn cause the increase of creatinine level, so correct dosage is very important.
Ketosteril: It can help not only lower high creatinine level but also slow down the progression of chronic kidney disease.
Calcium channel blocker: This is one common anti-hypertensive agent that can also help lower high creatinine level by expanding blood vessels and increasing the blood flow through kidneys.
There are many other types of western medications to deal with high creatinine level. As for which one is suitable for you, it should depend on your illness condition. Therefore, you can describe your illness condition to online doctor, so they can help you find a correct medication.
2. Herbal medicines
Chinese herbs can be taken as either medicine or tea. Dandelion root, nettle leaf, Chinese rhubarb, corn silk, astragalus membranaceus, etc, are used commonly in clinic, but these medicines may work a little slowly. In view of this, many kidney experts work together and create Micro-Chinese Medicine Osmotherapy.
With the help of two osmotic devices, shattered Chinese herbs can permeate into the body quickly and play their effects of anti-inflammation, anti-coagulation, expanding blood vessels and improving kidney function. (If you want to learn more about this treatment, you can leave a email to kidney-treatment@hotmail.com)
Any questions? Fill the form below. You will surely get the free medical advice from experts within 24 hours.