Can I Eat Celery with High Creatinine Level
2013-11-19 11:20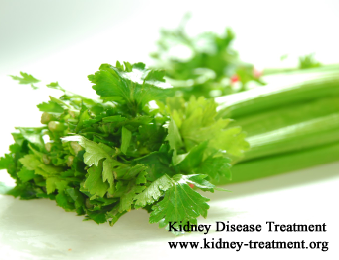 Creatinine is one blood test item that is ordered for estimating kidney function. Once it is higher than the normal, patients may pay more attention to their diet. If you are tested out elevated creatinine level and love to eat celery, you may want to know whether you can eat celery with high creatinine level.
Many people think high creatinine level is one sign of the serious decline of kidney function. In fact, some other factors can also cause the abnormal increase of creatinine level such as dehydration and kidney infections.
If your high creatinine level is due to kidney damage, celery may be good for you to eat. The reason is that celery contains rich apigenin, which can help lower hypertension. For people with kidney disease, hypertension is one big risk, as it can cause further kidney damage and worsen patients' medical condition. Besides, celery is also able to help ease kidney disease patients' swelling and reduce high cholesterol.
If kidney infection is the underlying cause of elevated creatinine level, you can also consume some celery. Just like many other vegetables, celery is one natural antioxidant, so it can help you fight against infections as well as kidney infection.
From the above content, you may think all people with high creatinine level can eat celery. However, it is wrong. Celery may be something you need to stay away if your elevated creatinine level is associated with dehydration. In this case, diuretic foods can worsen your illness condition, while celery just has properties of diuretic. From this point, you need to avoid celery.
Now, we can know whether people with high creatinine level can eat celery depends on the cause. If you don't know what causes your medical condition or you want to figure out how many celeries you can eat one daily, leave a message to kidney-treatment@hotmail.com.
Any questions? Fill the form below. You will surely get the free medical advice from experts within 24 hours.