What does High Creatinine Level Mean for Kidney Disease Patients
2014-02-07 02:25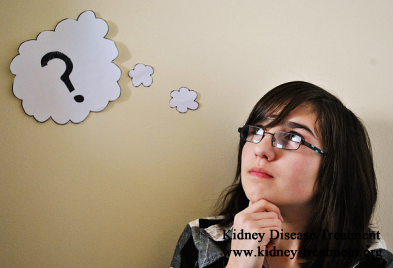 When kidney disease patients come into hospital, the doctor often ask whether their creatinine levels are higher, then what does high creatinine level mean for kidney disease patients?
Creatinine is a breakdown product of creatine phosphate in muscle, and the amount of daily produce creatinine is constant for normal adults. Here is a lists of normal creatinine level range for adults.
Male 0.7-1.2 mg/dL (60-110 μmol/L)
Female 0.5-1.0 mg/dL (45-90 μmol/L)
Children under 5 0.3-0.5 mg/dL
And the excretion of creatinine is mainly through kidneys, so the high creatinine level in blood is often regarded as a sign a kidney damage. When the creatinine level is higher than the normal level for kidney disease patients, it means patients has only less than 50% kidney function and kidneys are damaged severely.
As we know, kidneys have more than 10 million nephrons, and the main kidney function is worked through these nephrons. These nephrons can help filter wastes and toxins in blood, which can help regulate the overall health of people. However, when the kidneys are get damaged, they cant work well any more, and the bad substances cant be removed. When the kidney function is reduced mildly, except the macromolecular substances, kidneys can still help filter the small molecular substances, which contain creatinine and urea nitrogen. Only when the kidneys are damaged severely, even the creatinine and urea nitrogen cant be filtered out. In this condition, kidney disease patients will have high creatinine level and high blood urea nitrogen level.
When the creatinine levels are higher than normal level, it refers to the kidneys damaged severely. In this condition, the wastes and toxins will build up in blood, which will cause people suffering from some serious symptoms such as nausea, vomiting, skin itching and high blood pressure. They may also suffer from high risk of cardiovascular and cerebrovascular diseases and some other severe complications. In this condition, they may need to have dialysis to prolong their life time.
As high creatinine level is a sign of severe kidney damage, so patients need to pay attention to their creatinine level and have effective treatment to reduce the high creatinine level and remedy the kidney damage. Early and effective treatments will help kidney disease patients get rid of dialysis and have a good prognosis.
Any kidney problems? Please consult our online doctor. The satisfaction of patient is as high as 93%.
What you also want to know:
How can I get this treatment ?
How can I get this treatment in my country?
How much is this treatment ?
What is the duration if I receive this treatment in your hospital ?
How can I go to your hospital ?
Have a question regarding kidney disease? Get an answer from Medical Professional now!