How to Lower High Creatinine Level in Blood
2013-09-13 16:37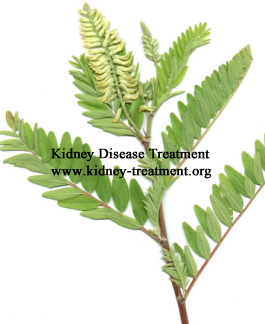 Creatinine level in blood helps to decide whether a kidney failure patient needs to start dialysis or not. Generally speaking, dialysis is suggested when creatinine level increases to 5, so keeping serum creatinine level in a lower range is very meaning for kidney disease patients. However, the problem is how to lower high creatinine level in blood?
To lower high creatinine level in blood effectively, the following measures are necessary:
1. A healthy diet
For a kidney disease patient whose creatinine level in blood is higher than the reference value (0.5-1.2mg/dL), making sure his diet is beneficial for his kidney is very important. A recommended diet for kidney disease patients usually refers to low-protein diet, low-salt diet, low-potassium diet, low-phosphorus diet and high-calcium diet (Leave message to kidney-treatment@hotmail.com to get the food lists that are helpful for kidney disease patients). Besides, if there is no fluid retention, patients can drink much more water, as this will help to excrete excess creatinine in blood.
2. A tight control of symptoms
Although symptoms like high blood pressure, proteinuria, hematuira and anemia occur due to impaired kidney function, if left alone, they will accelerate illness and further increase creatinine level in blood. Therefore, it is necessary to bring all these symptoms under control. Many medicines can be used to achieve this goal in medicine and please remember to choose the right one according to the illness condition.
3. Herbs to protect residual kidney function
Creatinine level in blood becomes higher and higher with the decrease of kidney function. Seeing from this point of view, protecting residual kidney function from being affected is essential. In medicine, many herbs have been proven to do good for kidney disease patients like milk thistle, astragalus and licorice root. Besides, although these herbs are helpful, please not use them causally, as improper taking will cause serious side effects, which is not helpful for lowering high creatinine level in blood.
4. Restore of kidney function
Kidney is responsible for discharging excess creatinine in blood, so restoring kidney function play a crucial role in lowering high creatinine level in blood. As for the treatment that can helps to improve kidney function, Micro-Chinese Medicine Osmotherapy is recommended as effective ingredients in this treatment are proven to be able to repair injured kidney intrinsic cells.
Any questions about how to lower high creatinine level in blood, please contact us directly.
Any kidney problems? Please consult our online doctor. The satisfaction of patient is as high as 93%.
What you also want to know:
How can I get this treatment ?
How can I get this treatment in my country?
How much is this treatment ?
What is the duration if I receive this treatment in your hospital ?
How can I go to your hospital ?
Have a question regarding kidney disease? Get an answer from Medical Professional now!