How To Diagnose Diabetic Nephropathy
2013-10-07 16:01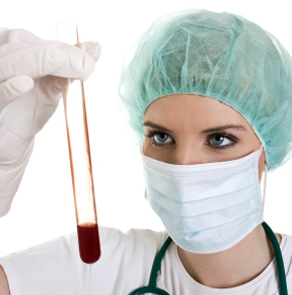 Diabetic nephropathy is a progressive kidney disease and it is caused by Diabetes. There are two types of Diabetes: type 1 diabetes (T1DM) and type 2 diabetes (T2DM). About 20% to 30% of patients with type 1 or type 2 diabetes develop to diabetic nephropathy. In detail, the rate of T1DM developing to diabetic nephropathy is about 30%-40%, T2DM is about 20%. That is to say patients with T1DM are more likely to develop diabetic nephropathy than patients with T2DM. Diabetic nephropathy is one of the most severe complications and finally can cause end-stage kidney failure. Well. How to diagnose Diabetic Nephropathy? As for the diagnosis, the following several tests are necessary.
Urine test: Diabetic nephropathy is diagnosed by checking the albumin in the urine. In the early stage of diabetic nephropathy, patients' urinary albumin excretion is higher than that of normal people, and its level is 20µg/min to 199µg/min. In advanced stage of diabetic nephropathy, the level of urinary albumin excretion is over 200µg/min. Therefore, by checking protein in urine, we can know clearly whether diabetic is suffering from kidney problem.
Diabetic Nephropathy is caused by Diabetes. For patients of Type 1 Diabetes, they need to have a urine test every year after the diagnosis of diabetes for five years. However, if you are a sufferer of type 2 diabetes, you should check your urine every year since you are diagnosed with diabetes.

Blood test for creatinine level: Creatinine level reflects how well kidney function, so blood test is necessary for diabetes to measure their creatinine level in blood.
Blood pressure test: There are about one-third people with type 2 diabetes having high blood pressure. High blood pressure may promote the diabetic nephropathy progress, so it is important to check blood pressure regularly.
The above several tests are the basic tests for the diagnosis of Diabetic Nephropathy. In some cases, more tests are suggested to have an accurate diagnosis. If you are interested in the diagnosis and want to learn more about test for Diabetic Nephropathy, please leave us message directly.
Any questions? Fill the form below. You will surely get the free medical advice from experts within 24 hours.