Foods Which are Fit for Patients with Diabetic Kidney Disease
2014-12-23 08:56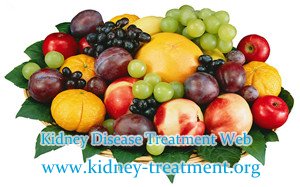 For most of Diabetic Kidney Disease patients fruit is a kind of luxury, they are desire to eat it but not dare to eat it. In fact, there are no need to keep away from fruit. Because there are many different kinds of fruits, which are rich in all kinds of nutritions such as vitamin,fiber and mineral substance, all of these things are beneficial for your health. So what kinds of fruits are helpful to Diabetic Kidney Disease patients ? Let us have a look at together.
Different fruits have different sugar count in it, so we should treat them differently. Some Fruits just contain 10g sugar per 100g, such as watermelon,muskmelon,orange,lemon,peach,grape,strawberry,pineapple,cherry and coconut. Patients can eat some of them according to need. For some fruits which are contain 11-12g sugar per 100g, patients should be caution to eat them. These fruits including banana,pomegranate,apple,pear,litchi and mango. Fruits patients need to avoid are red date,hawthorn,raisin,dried persimmon and longan, because these fruits contain over 20g sugar per 100g.
Experts said fresh vegetable are rich in various nutritions and no much sugar. So in order to meed the demand of your body you can eat some vegetables like tomato and cucumber, they are good substitute for fruit and very suitable for Diabetic Kidney Disease patients.
If you have other problems about Diabetic Kidney Disease you can chat with our online doctor, they will provide you some good advices for free.
Any questions? Fill the form below. You will surely get the free medical advice from experts within 24 hours.