Diabetes and Kidney Disease with Low Sodium Level in Blood
2015-03-17 15:26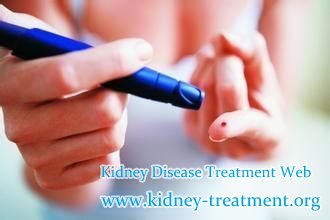 Serious low sodium level in the blood may makes Diabetic Nephropathy patients in life risk, so as a kidney disease patient with diabetes, you should pay high attention to the sodium levels in the blood.
Why do these patients have low sodium level ?
Low sodium level in the blood can be divided into three conditions: decline of total sodium amount in blood, normal total sodium amount and increase of total sodium amount.
Low sodium level along with declined total sodium amount in the blood. To lower Diabetic Nephropathy patients' high blood pressure or ease their swelling, nephrologists are more likely to prescribe diuretics. Overuse of diuretics may cause sodium loss, metabolic acidosis, diabetic ketoacidosis, and so on easily. Besides, vomiting and diarrhea are another reasons of this condition.
Low sodium level along with normal total sodium amount in the blood. It is usually resulted from lack of glucocorticoid, hypothyroidism, some medications or SIADH.
Low sodium level along with increased total sodium amount in the blood. When kidneys are damaged severely by diabetes, they are unable to filter extra sodium and fluid effectively. Fluid retention can cause sodium level in the blood to decline, but in fact, the total sodium amount in the blood increases.
What are the symptoms of low sodium level in blood ?
The main symptoms are fatigue, nausea, vomiting, headache, sleepiness, muscle cramps, muscle pain, and so on. In severe cases, patients may suffer from twitching, coma, increased intracranial pressure, etc.
How to manage low sodium levels in Diabetic Nephropathy ?
Different patients need to take different treatments. But no matter how if you want to solve this problem from its underlying cause, you have to find some ways to reverse the damaged kidneys. Micro-Chinese Medicine Osmotherapy as one of the innovation of traditional Chinese herb medicine can be a good choice.
If you are interested in this therapy or need any help in treating Diabetes and Kidney Disease, you can leave message to us, we will try our best to help you.
Any questions? Fill the form below. You will surely get the free medical advice from experts within 24 hours.