How Can A Diabetic Patient Correct High Creatinine of 6.9
2018-01-06 11:20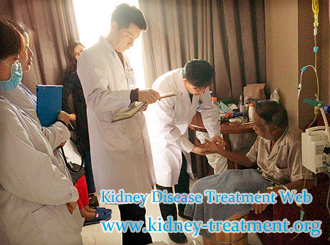 Patient 01-05 07:24:56
How can a diabetic patient correct high creatinine of 6.9 and urea level of 128 in the body system without option of dialysis?
kidney-expert 01-05 07:25:25
Please do not worry. Through the diabetic patient has been in the stage 4 kidney disease, he / she still could make the serum creatinine and urea levels down with natural treatments. There are two ways to get this goal, one is to take the redundant creatinine and urea away from body, the other one is to recover kidney function. I recommend the patient to try a combined treatment as well as be careful in dialy life to prevent further kidney impairment. For the detailed diet or treatment plan, I need to know more condition about the patient. Are you the patient?
Patient 01-05 07:25:42
I am talking in behalf of the patient. Can you tell me the name of the natural treatments? And would he be cured?
kidney-expert 01-05 07:25:51
I see. Frankly speaking, many patients who have the similar conditions have been treated with the Acupuncture, Immunotherapy, Micro-Chinese Medicine Osmotherapy, Toxin-Removing Therapy or other Chinese medicines, some of them are return to the normal life, and some keep the creatinine in a low range. However, he must take a treatment organized in terms of his illness conditions. Otherwise, he may start dialysis due to the worsened physical situation. Any symptoms now? like foamy urine, swelling, fatigue, back pain, anemia, itching, etc.
Patient 01-05 07:26:46
None of the above. No itching no foamy urine, no pains. Do you need his test reports? How can I give them to you?
kidney-expert 01-05 07:27:09
It is miracle that the patient have none symptoms. You can send it to my e-mail kidney-treatment@hotmail.com. I'd like to send the suggestions to you after analyzed his test reports. What is your phone number or e-mail address?
Patient 01-05 07:31:40
OK. Please send the advice to me ASAP. What is the charge?
kidney-expert 01-05 07:31:50
The advice is free. I will contact you within 24h. Have a good day.
Any questions? Fill the form below. You will surely get the free medical advice from experts within 24 hours.