Diabetic Nephropathy How to Avoid the Exacerbation
2018-03-30 14:02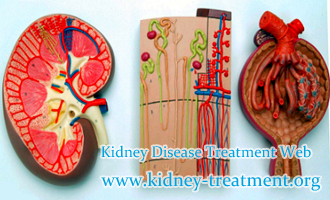 Kidney disease occurs in 30 to 40 percent of type 1 diabetics who have been ill for more than 15 years, among which only the renal damage caused by the high blood sugar can be called diabetic nephropathy. Moreover, the diabetic nephropathy will develop into kidney failure step by step. Well, how to avoid the exacerbation of diabetic nephropathy?
Above all, let's go for the causes of diabetic nephropathy and the dangerous factors to worsen it.
In long-term hyperglycemia, vascular permeability increases, and proteins are leaked out and deposited. Although hypertension is not a pathogeny in diabetic nephropathy, it can aggravate the excretion of albumin and accelerate the progression of diabetic nephropathy and the deterioration of renal function. A high-protein diet can accelerate kidney damage in patients with renal insufficiency.
And then, what should we do to manage the diabetic nephropathy?
1. Determine whether you really have diabetic nephropathy. Because diabetics are accompanied by other kidney diseases, it is very easy to be misdiagnosed as diabetic nephropathy. And Their treatment and prognosis are very different.
2. A reasonable lifestyle. It includes proper diet, exercise, smoking cessation, temperance, and ideal weight, which is beneficial to slow down the progress of diabetic nephropathy and to protect renal function.
3. Control blood sugar, blood pressure and blood lipid. The important reason is that the control is not up to standard. The blood pressure target is 130/80mmhg. Serum lipid target ldl-c.
4. No kidney toxic drugs. When you are actively cooperating with other diseases, be sure to tell your doctor that you have diabetic nephropathy so as to avert nephrotoxic medicines.
5. Recovery renal function. Many medicines have showed great effects on improving kidney function naturally, such as Hot Compress Therapy, Micro-Chinese Medicine Osmotherapy, Steaming Therapy, Mai Kang Mixture, Foot Bath Therapy and so on. As long as the kidneys are restored, can the patients avoid dialysis and transplant fundamentally and live a normal life.
If you have not find out the effective way to avoid the exacerbation of diabetic nephropathy, please leave a message below or send the medical reports to us. We will try our best to help you.
E-mail: kidney-treatment@hotmail.com
Any questions? Fill the form below. You will surely get the free medical advice from experts within 24 hours.