Will Dialysis Cause Dizziness
2013-09-24 11:20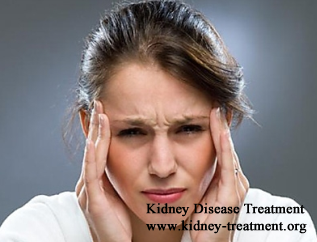 Will dialysis cause dizziness? Dialysis is supposed to make patients feel more comfortable as it can remove excessive water and metabolic wastes out of the blood. However, in some cases, patients complain they feel dizziness during or after dialysis. Why is this?
Will dialysis cause dizziness?
Will dialysis cause dizziness? The answer is "Yes". Dizziness is impairment in spatial perception and stability and among dialysis patients, dizziness usually occurs as a result of low blood pressure which is a common side effect of dialysis. Dialysis is the medical procedure in which waste products and excess fluid are removed by a dialysis machine outside patients' body. Sudden drop in fluid level may cause low blood pressure and thus lead to dizziness. In such a condition, dizziness is always accompanied with nausea.
Besides, dialysis patients may also experience low blood pressure if they take antihypertensive pills before dialysis. High blood pressure is a common complication or symptom of kidney disease. Uncontrolled high blood pressure worsens kidney condition and illness condition. To bring blood pressure into normal range, antihypertensive drugs are usually used. For dialysis patients, taking hypotensor before dialysis will increase their risk for low blood pressure and dizziness.
How to manage dizziness in dialysis?
Treatment for dizziness in dialysis depends on its causes. For example, for dialysis patients, if they experience dizziness due to low blood pressure caused by quick drop of body fluid, patients generally need to tightly control their fluid intake, so as to keep a good dry body weight. However, if dialysis patients suffer from low blood pressure as they take excess hypotensor before dialysis, they need to consult doctors and ask them for help to adjust medicine dose.
Besides, if symptom of low blood pressure persist, it is necessary for patients to consult their dialysis care team because the amount of fluid during dialysis may need to be adjusted.
Lastly, for dialysis patients, only when the root cause of dizziness is found and removed effectively, can symptom of dizziness be alleviated radically. Also, as dialysis patients may experience dizziness due to different factors, to find the right management method for you, you can describe your illness condition here: kidney-treatment@hotmail.com. Our doctors will help you analyze your illness and give some good advice.
Any kidney problems? Please consult our online doctor. The satisfaction of patient is as high as 93%.
Have a question regarding kidney disease? Get an answer from Medical Professional now!