Why Kidney Failure Patient Feel Weak after Dialysis
2015-02-07 16:54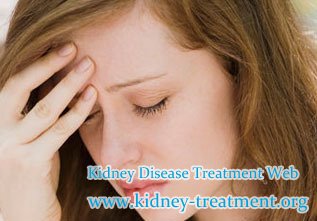 Why kidney failure patient feel weak after dialysis ? The main reasons of it are loss of kidney functions and malnutrition due to loss of appetite and dietary restrictions. Besides, many dialysis patients suffer from extreme stress, anxiety and worry which might be another reason of fatigue. The following are some details about it, hope you can learn more about it.
1. Low blood pressure
Low blood pressure is a common cause of fatigue after dialysis. Dialysis is usually performed 3 to 4 times in a week. Between sessions of dialysis, high level of fluid will build up in body. During the dialysis treatment, fluid is removed in such a short time. This is not normal for the body. The more fluid that has to be removed, the greater the chance of a person feeling tired and sick after dialysis.
2. Too much fluid intake
Patients on dialysis should limit the intake of fluid strictly between dialysis sessions. Drinking too much fluid can cause weight gain. The body just cannot take having all that fluid removed in such as short period of time. Therefore, it is very important for people on dialysis to limit fluids intake and foods high in water.
3. Low dry weight
Low dry weight is an important value in measuring the quality of dialysis. If proper dry weight is maintained after dialysis, a patient has no extra fluid in his body and still feels well. However, if the weight falls below dry weight after dialysis, the patient may experience fatigue and other discomforts.
4. Blood pressure medicines
High blood pressure medicines are usually prescribed to people with renal failure. Usually, the blood pressure falls during the dialysis treatment. Therefore, the patients are told not to take medicines before dialysis. This is because as the medicine starts working and lowering the blood pressure an the machine is removing fluid and lowering blood pressure, the blood pressure may go too low, thus resulting in fatigue.
5. Anemia
Anemia can cause fatigue in people with kidney failure. This condition may become apparent during dialysis treatment.
Any questions? Fill the form below. You will surely get the free medical advice from experts within 24 hours.