How Much Fluid Intake is OK for Dialysis Patients
2014-01-07 08:07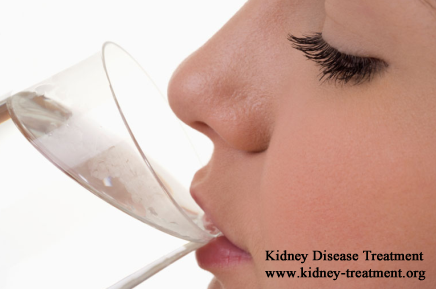 Dialysis is a common treatment for end stage kidney failure patients when their kidneys fail to work well. For them, they should have some details to notice, such as limit the fluid intake. In this article, we will discuss the fluid intake for dialysis patients.
Why should dialysis patients need to limit their fluid intake?
With the gradually reduced kidney function, patients will suffer from reduced urination or even no urination. When kidney failure patients have little urination or no urination, they will recommend to have dialysis to substitute the kidney function. As the kidneys fail to work, if patients take too much water, the fluid will remain in blood, which will cause swelling and high blood pressure. Besides, the fluid retention may also make the heart work harder which will cause heart failure, and too much fluid intake will also cause shortness of breath. In this condition, dialysis patients should pay attention to their fluid intake.
How much fluid intake is OK for dialysis patients?
The fluid intake is different from case to case, in general, the recommend fluid intake everyday id depending on the the amount of urine produced in 24 hours period. Besides, dialysis patients should also pay attention to the amount of fluid retention in swelling and the amount of the weight gained between dialysis.
Besides, the fluids intake will be difficult for dialysis patients, as they are often feel thirsty everyday. There are some methods can relieve the thirsty for dialysis patients, such as gargling with ice cold water, sucking an ice cube or chewing gum.
Besides, people with peritoneal dialysis may need not to limit their fluid intake as strict as hemodialysis patients. Because peritoneal dialysis patients will do dialysis everyday, the fluid in body can be removed timely, so they don't need to limit their fluid intake.
As the fluid intake is different from case to case, the dialysis should follow the advices of their doctors to make a certain amount of fluid intake in their daily life.
Any questions? Fill the form below. You will surely get the free medical advice from experts within 24 hours.