Why Heart Failure is Often Secondary to ESRD
2016-10-01 13:34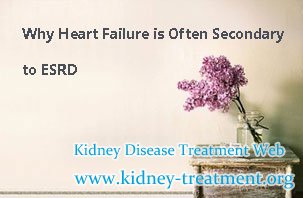 Lots of ESRD (End-stage Renal Disease) patients may experience heart failure, so as a kidney failure patient, you'd better pay high attention to this complications.
Why heart failure is often secondary to End-stage Renal Disease?
1. Hypervolemia
Blood volume increases when one has ESRD. As a result, left ventricular end-diastolic capacity and cardiac output increases, heart problem is induced by declined function of left ventricular as a result of cardiac function compensation develops.
2. High blood pressure
A persistent high blood pressure poses extra burden on heart causing ventricular wall hypertrophy and heart enlargement. Consequently, heart failure develops. Concentration of catecholamine would increase when ESRD develops, which is closely connected with the occurrence of heart disease. Additionally, high blood pressure speeds up the progression of atherosclerosis which triggers heart problems.
3. Uremic toxins
Harmful substances accumulate in the blood when one experiences End-stage Renal Failure. Those toxins restrain cardiac muscle leading to cardiomyopathy. Consequently, myocardial contractile function declines and heart problems attack.
4. Electrolyte disorders and acidosis
Electrolyte disorders would happen as the patients have End-stage Renal Disease. Electrolyte disorders change the cardiac excitability. Thus, cardiac arrhythmia and heart disease attack.
5. Renal anemia
Persistent renal anemia contributes to myocardial anoxia in patients with ESRD. Myocardial anoxia induces cardiac myocardial anoxia and heart disease.
6. Arteriovenous fistula used when taking dialysis
Cardiac load increases because of enhanced blood flow in arteries and veins. If this condition lasts for a long time, heart failure might attack.
7. Atherosis
High blood pressure and hyperlipemia caused by End-stage Renal Failure all may result in the occurrence of atherosclerosis and heart problems. In turn, atherosis should be blamed for the elevated mortality in patients with ESRD. For those patients, close monitoring their heart function during dialysis means so much for them.
8. Low immunity
Myocarditis or pericardium because of infection and low immunity leads to heart failure in those renal failure patients.
Any questions? Fill the form below. You will surely get the free medical advice from experts within 24 hours.