Is Heart Attack Related with Chronic Kidney Disease
2015-07-05 16:33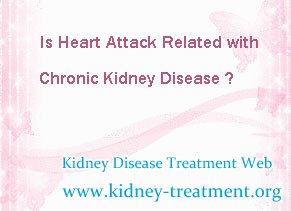 Is heart attack related with chronic kidney disease ? CKD is a serious problem that can be caused by diabetes, high blood pressure and other medical conditions. But those with CKD are actually more likely to get complications of cardiovascular disease, which can include heart attack and stroke, than from kidney failure.
The CDK and Cardiovascular Disease Connection
CKD and cardiovascular disease share two major risk factors -- diabetes and high blood pressure. Both can damage the blood vessels in the kidney, preventing it from properly eliminating fluid from the body. Excess fluid contributes to higher blood pressure, which leads to more blood-vessel damage -- a continuing cycle of damage.
Sometimes complications caused by CKD can also make cardiovascular disease more likely. They include:
Excess calcium or phosphorus in the blood, which can stiffen and narrow the blood vessels
High homocysteine levels, which some evidence suggests can damage artery walls and encourage dangerous clots
Systemic inflammation, which is inflammation that's not in just one part of the body but has spread generally and can lead to heart attacks and strokes
CKD patients are also prone to anemia, which is a lowering of the blood's red cell count. Prolonged anemia can cause the heart to develop a left ventricular hypertrophy, which means the muscle on the left side of the heart becomes abnormally thick. This can lead to congestive heart failure.
Since even a minor loss of kidney function can drastically increase the danger of damaging the heart, a stroke, heart attack or other cardiovascular problem sometimes occurs before the CKD is even diagnosed.
If you have other questions or need any help in treating kidney disease, you can consult our doctor on WhatsApp/Viber directly or leave message to us, we will try our best to help you.
Our WhatsApp/Viber: +8618395615012
Any questions? Fill the form below. You will surely get the free medical advice from experts within 24 hours.